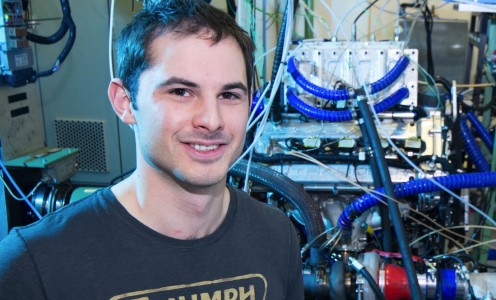 Student Dom Parsons has temporarily put the brakes on his work on an innovative mechanical engineering research project at the University of Bath to try to achieve his dream of competing at the Sochi 2014 Olympic Winter Games next month.
Parsons is studying for a PhD in Mechanical Engineering at the University, where he is carrying out research on developi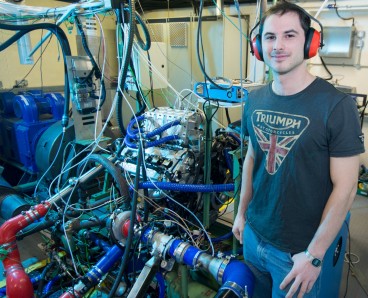 ng a new generation of more powerful, more efficient car engines.
And it was as an undergraduate at the University six years ago that he took up the sport of skeleton, in which he now hopes to represent Great Britain at the Sochi Games.
Now in his first full season on the World Cup circuit, the 26-year-old Brit has already won his first World Cup medal and is currently ranked 14th in the world, increasing his prospects of securing a place on the GB team for the Sochi Games.
And although Parsons loves both his sport and the research, the academic side of his life has had to take a back seat as he closes in on a place at the Olympics.
"I love skeleton and I can't imagine not sliding, but I know I've still got a lot to learn in the sport," said Parsons. "I couldn't really have done the work I needed to while trying to get to the Olympics and the University were flexible in letting me suspend the research between October and March."
If he makes the team for Sochi, Parsons will no doubt reflect on the life-changing impact of his decision to do his first degree at the University of Bath.
The University is headquarters to British Skeleton, the sport's National Governing Body, and also hosts a unique push-start track that helps skeleton and bobsleigh athletes to hone their starting skills. The track has been used by successive generations of athletes who have won skeleton medals at past Olympic Winter Games, including Amy Williams, who struck gold in Vancouver in 2010.
Parsons was a county level 400m runner when he arrived at the University in 2006 to start a Mechanical Engineering degree.
"I went along to a session on the push-start track and seemed to do quite well, so they invited me to a Talent ID session at Lillehammer in Norway," he said. "I loved it from the start.
"If I hadn't done my degree at the University of Bath I probably still would have known very little about the sport of skeleton."
The road that could lead him to Sochi hasn't always gone smoothly though, but Parsons proved his determination in the past by self-funding to get to some races, where his performance helped him earn a place on Britain's World Cup team.
He competed at his first World Cup last season and then came ninth on his World Championships debut at St Moritz in February, continuing his form into the 2013/14 season with a bronze medal at the Calgary World Cup in November. He followed that up with a 10th and two 11th place finishes.
And Parsons knows he's got something exciting awaiting him after what he hopes will be his Olympic debut in Sochi, when he resumes work on an innovative project at the world-leading Powertrain and Vehicle Research Centre in the University of Bath's Department of Mechanical Engineering.
Parsons is working on an extension to the successful Ultraboost research programme, a £5.2 million project funded by the Technology Strategy Board and led by Jaguar Land Rover to develop a next generation 2L petrol engine capable of achieving the performance characteristics of a 4.2L V8 engine, with a 35 per cent reduction in CO2 emissions.
With the main programme successfully completed, Parsons' PhD research involves investigating in greater detail the chemistry of the combustion happening inside the engine and examining how it can be further improved – a process that could yield substantial benefits to motorists.
"Dom is at the top of his game in two completely different fields," said Dr Chris Brace, Deputy Director of the Powertrain and Vehicle Research Centre at the University of Bath, who oversees the research.
"There are no other universities in the UK that could do this kind of work, so he is involved in some really ground-breaking research. There's a lot more we need to understand about the way combustion happens and what we can do to improve it.
"We're pushing the boundaries a bit. We know there's more potential there," he added. "Dom is calm and well-organized and nothing really fazes him."
Dom, who receives National Lottery funding from UK Sport and is a Santander Sports Scholar at the University of Bath, is putting the same detailed methodical attitude that helped him earn a first class Mechanical Engineering degree at the University to good use on the skeleton track too.
"I enjoy the feeling going into races, the nerves and anxiety feel really positive. I take an approach that's very similar to engineering. I analyse tracks very carefully and try to identify what would work well and what would hopefully make me quicker than everyone else."
He watched footage of sliding on the Calgary track, read the track notes and discussed the track with British Skeleton's experienced coaching team, then walked the course and examined the corners and the ice before racing there for the first time in the opening World Cup of the year in November.
His attention to detail paid dividends when he won a bronze medal – his first medal on the World Cup Circuit.
"I did a lot of preparation for Calgary over the summer and I was pleasantly surprised," he said.
Asked whether he'd had time to research the other tracks on the circuit he responded with a wry smile: "Only Sochi. I did more work on Sochi than Calgary."
About the University of Bath
The University of Bath is one of the UK's leading universities with a vibrant and innovative academic community. It is recognised internationally for the quality of its teaching and research and regularly features in the top-10 in national university ranking lists.
It came out top for student satisfaction in the 2013 National Student Survey and was named as the Best Campus University in Britain in The Times and The Sunday Times Good University Guide 2014. You can find out more about the University at www.bath.ac.uk
The University's sports brand is known as Team Bath and offers a world-leading sports environment for student, elite and recreational level sport.
The £30 million Sports Training Village hosts around 250 international level athletes and around 1.3 million people visit the University's sports facilties each year. Further information at www.teambath.com
For more information about the British Skeleton team please see www.britishskeleton.co.uk