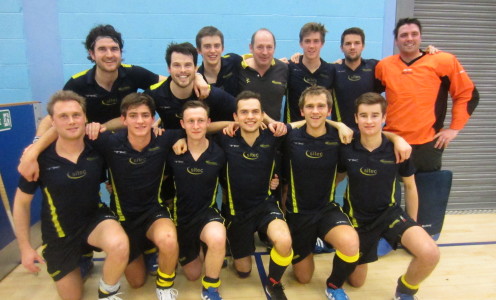 A remarkable four successive promotions in just 13 months have seen Team Bath Buccaneers men's indoor team reach the Premier League of England Hockey's Maxinutrition 5s competition for the first time in their history.
Buccs finished runners-up in this weekend's Division 1 competition at the University of the West of England.
That was enough to see them promoted to the Premier Division, giving them the opportunity to take on the Premier League powerhouses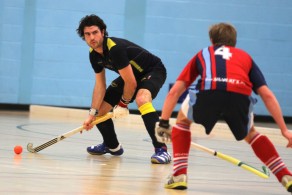 East Grinstead, Reading and Beeston next season and the chance to compete for a place at the championship finals at Wembley Arena.
It completes an incredible journey that saw them win the West Cup and then Division 2 in December 2012, and then secure promotion to Division 1 in December 2013 as runner-up in Division 2.
Buccs captain and player-coach Tom Skinner said: "This is a fantastic achievement. The squad has come so far in such a short space of time and it means the club will compete in a Premier Division for the first time in its history.
"We were delighted to have promoted to Division 1 in December, but to come here and play the way we have in this division has been unbelievable and will provide us with great confidence as we seek to do the same outdoors."
Buccs had to do it the hard way at the weekend after going down 10-7 to Cannock. But Tim Davenport and Ben Stone both scored hat-tricks as they beat Bournville 11-5 and they followed that up with a 10-8 win over Old Loughtonians, a game that saw Andrew Eversden make some vital stops.
That meant they went into the final fixture against Hampstead and Westminster needing a win to secure promotion – and they didn't disappoint. Another Davenport hat-trick and a strike from student Niklas Rieger saw them race away to a 4-0 lead and Will Seward, Ben Mackey and Ben Stone all got on the scoresheet as Buccs ran out 9-3 winners to secure promotion.
Buccs resume their outdoor West Conference campaign in February, currently sitting in top spot in the division. They travel to Cardiff in their opening fixture before entertaining Exeter University the following week.
Buccs indoor squad: Tom Skinner (captain), Andrew Eversden, Tim Davenport, Josh Mardell, Will Seward, Jack Cropper, Jack Betenson, Ben Stone, Ben Mackey, Nik Rieger, Sam Hatherley, Mike Stride, Ed Horler, Shaun Matthews, Loic Cerulus, Freddie Everett. Jon Williams (Coach), Stuart Adam (Assistant Coach),  David Horler (Manager), Richard Stone (Assistant Manager), Chris Jones (Analyst).
You can see our Buccs men's and women's match reports at http://www.teambath.com/category/hockey/
You can find out more about Team Bath on our website teambath.com
You can also follow Team Bath on Twitter at twitter.com/teambath or facebook.com/teambath
For further information please contact the Team Bath press office at Matchtight Ltd on 01225 383518 by email at press@matchtight