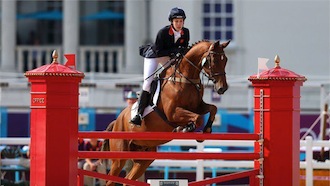 Europe's top modern pentathletes will begin the battle for Olympic selection in the UK when the University of Bath hosts the 2015 European Modern Pentathlon Championships – the first senior international modern pentathlon competition held in the UK since the London 2012 Olympic Games.
The event, one of more than 26 World and European Championships targeted to be hosted in the UK as part of UK Sport's £27 million Gold Event Series, will be held in Bath, home to Pentathlon GB's National Training Centre, from 17 to 23 August.
More than 100 top pentathletes from around Europe will compete at the championships, which will be their first opportunity to try to achieve the qualifying standard for the Rio 2016 Olympic Games.
Samantha Murray, London 2012 Olympic silver medallist and University of Bath graduate, said she was excited by the prospect of competing in an Olympic qualifier at her training base.
"It will be a fantastic opportunity for our sport to harness the interest generated by the Olympics and by the performance of the British men and women at the Games.
"It will be a fabulous occasion for British athletes to compete on home soil in front of friends, families and supporters. That's always an advantage," she added. "The Sports Training Village at the University of Bath is a world-class facility and I'm sure it will deliver an outstanding modern pentathlon competition for Europe's best pentathletes."
Simon Morton, Director of Major Events & International Relations at UK Sport, said: "The Senior European Modern Pentathlon Championships will be the first of UK Sport's Gold Event Series Championships to be held in Bath and is a great example of UK Sport's commitment to staging world class sport throughout the UK to help build a strong legacy from the London 2012 Olympic and Paralympic Games.
"I am delighted that through the National Lottery funded Gold Event Series we continue to attract prestigious events to the UK. The combination of outstanding venues, technical know-how, passionate fans and thousands of experienced volunteers mean the UK is recognised as one of the best places in the world to stage international sport."
The 2015 European Championships will be a key competition for pentathletes aiming to compete at the Rio 2016 Olympic Games, and with only two athletes per gender per nation able to compete at the Olympics and further qualification events in 2016, the competition is sure to be fierce.
Jon Austin, Pentathlon GB CEO, said: "We're delighted to bring the European Championships back to the UK in 2015. It's good news for the sport and good news for Britain's modern pentathletes.
"Because of the way Olympic qualification works, the European Championships the year before an Olympic Games traditionally provide the earliest and best opportunity for Britain's pentathletes to try to achieve the Olympic qualifying standard. Our athletes will have the opportunity to do that with British supporters cheering them on, and that's got to be good news.
"We look forward to working closely with UK Sport and the University of Bath to help make the event a big success," he added. "It's also great news for our volunteers. Our events wouldn't come together without them so it's great that they will have the opportunity to support such a high profile and exciting competition."
Stephen Baddeley, Director of Sport at the University of Bath said: "The University of Bath is proud to be chosen to host the 2015 Modern Pentathlon European Championships.
"We have a terrific track record of hosting major sporting events, training camps and teams. The world-leading sports facilities at the Sports Training Village, along with both accommodation and catering on campus, is a winning combination.
"All this in the city of Bath, a World Heritage Site that combines some of the nation's finest heritage with a vibrant city centre."
Tatiana Ardabyeva, Secretary General of the European Confederation of Modern Pentathlon (ECMP) said: "The 2015 European Championships will be the first qualification for the Olympic Games in Rio and we're sure athletes, coaches and officials are looking forward to having it in Great Britain. The 2011 championships were in Medway and we still remember it as one of the best European events. We know there is a very professional group of organisers in the UK and we're looking forward to working with them again."
Modern pentathlon is one of the most demanding Olympic sports and sees athletes tackle fencing, swimming, riding and a run/shoot all in the space of one day.
-ends-
For further details contact Steve Ballinger in the Pentathlon GB press office at Matchtight Ltd on 01225 383518 or 07765 071683 or by email at press@matchtight.co.uk
About UK Sport
UK Sport is the nation's high performance sports agency responsible for the strategic investment of a record £355 million of National Lottery and Exchequer funding in Olympic and Paralympic sports preparing for Rio 2016.
UK Sport's Gold Event Series will invest £27 million of National Lottery funding to support the bidding and staging costs of major events on home soil, as well as providing specialist support to organisers. Events are supported for their likely performance impact on GB athletes, but also to maximise the wider sporting, social, cultural, economic and environmental benefits.
The Gold Event Series will aim to bring over 70 of the world's most prestigious sporting events to the UK, including 26 World and European Championships. This ambitious programme will support British athletes' preparation and qualification for Rio 2016, while generating approximately £287 million of additional expenditure in host cities and regions and bringing over 250,000 overseas visitors to the UK. Events already secured include the 2017 World Athletics and IPC Athletics Championships to be staged in the London Olympic Stadium and the 2015 World Artistic Gymnastics Championships at the Hydro Arena in Glasgow. More @ www.uksport.gov.uk/events
About Pentathlon GB
Pentathlon GB is the National Governing Body for the Olympic sport of modern pentathlon. As well as running a successful performance programme, it also runs a range of multisport competitions including in biathlon (running and swimming) and biathle (a continuous run/swim/run).
Britain's modern pentathletes have an impressive track record at Olympic Games, having won five medals from the last four Games. Steph Cook won gold and Kate Allenby bronze at Sydney 2000, Georgina Harland won bronze at Athens in 2004, Heather Fell took silver at Beijing in 2008 and Samantha Murray's London 2012 silver was Britain's last medal of the Games. For further information please see www.pentathlongb.org
About the University of Bath
The University of Bath is one of the UK's leading universities with a vibrant and innovative academic community. It is recognised internationally for the quality of its teaching and research and regularly features in the top-10 in national university ranking lists.
It came out top for student satisfaction in the 2013 National Student Survey and was named as the Best Campus University in Britain in The Times and The Sunday Times Good University Guide 2014. You can find out more about the University at www.bath.ac.uk
The University's sports brand is known as Team Bath and offers a world-leading sports environment for student, elite and recreational level sport.
The £30 million Sports Training Village hosts around 250 international level athletes and around 1.3 million people visit the University's sports facilities each year. Further information at www.teambath.com