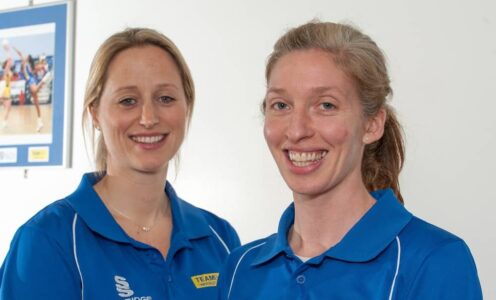 Former England netball captain Olivia Murphy, one of the most respected figures in English netball, has joined Team Bath as an assistant coach for the 2014 Superleague season.
Murphy won 95 senior England caps in an illustrious playing career that included six years as England captain, from 2000 to her international retirement in 2006.
The influential midcourter helped England to bronze at the 1998 and 2006 Commonwealths Games and at the 1999 World Championships.
She joins an experienced coaching set-up led by Jess Thirlby and including Denise Ellis, a partnership that took Team Bath to a fifth Superleague title last year.
"Jess and I have been working together with England under-21s," said Murphy. "Our relationship goes back a long way. We've played together and against each other in our career.
"I've got great respect for Jess and the way she goes about her business, and I think it will be a really exciting opportunity to work with her at Team Bath," she said.
"I want to be the best performance coach I can be so that I can contribute to England's quest to become World Champions.
"The opportunity to work with Jess and Denise, two established performance coaches, and a group of podium athletes is an exciting opportunity as it will help me develop my coaching skills, while at the same time making a positive contribution to performance netball for England and Team Bath," she added.
Murphy continues with her England coaching duties and her job as England Netball's East Midlands Regional Manager.
And as Team Bath approach their opening game of the season –  they host Team Northumbria at the University of Bath Sports Training Village on Friday (31 January) – Murphy says she's excited by the team's prospects this time around.
"The squad is really exciting," she said. "It's got some youth and some experienced players, which is always a good mix.  We've also got a really good coaching team.
"We'll give it our best shot," she added. "I think we've definitely got a good opportunity to win the Superleague this year, although there are some very competitive teams around, so it will be a tough ask."
Murphy spent much of her club career playing with Loughborough Lightning, and coached at Loughborough for seven years. She admitted it has been a little strange to swap purple for the blue and yellow of Team Bath.
Head coach Thirlby said she is delighted to have Murphy as part of Team Bath's coaching set-up.
"It's really exciting to have someone with Olivia's knowledge and experience as part of our coaching team. She will add an additional dimension to the coaching team and we're looking forward to getting the new season underway."
Team Bath are the most successful team in the history of the Superleague, winning five of the eight titles contested to date.