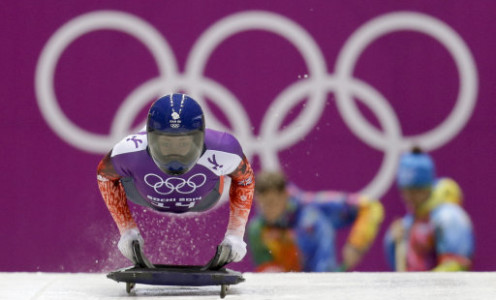 University of Bath-based Lizzy Yarnold leads the way at the halfway mark of the women's skeleton competition at the Sochi 2014 Olympic Winter Games.
The 25-year-old clocked the fastest time on each of today's two runs at the Sanki S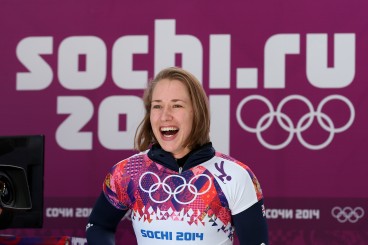 liding Centre and goes into the final two heats tomorrow with a hefty 0.44-second advantage over Noelle Pikus-Pace of the USA in second.
It means she is still en route to follow in the footsteps of Amy Williams, another Bath athlete, who took gold at the Vancouver Olympics four years ago.
Yarnold went into the Olympic Winter Games having won this year's overall World Cup series, with four gold medals and three more podium finishes from eight competitions.
She carried on her impressive form with a stunning run on heat one of the Olympic competition today. Starting the opening heat second after Pikus-Pace, Yarnold broke both the start record and track record.
Her 4.95 second start took three-hundredths of a second off the old benchmark and she produced a clean run to set a track record of 58.48.
University of Bath graduate Shelly Rudman was next up. She started with a 5.14 second start and she went on to record a time of 59.46 seconds, which would see her come 12th.
Russia's Elena Nikitina, the reigning World Junior Champion and European Champion, went into the heat two in second place just 0.05 seconds behind Yarnold. She scythed 0.06 seconds off Yarnold's start record, but despite that stunning start, she could only finish in 58.48, 0.05 off Yarnold's time.
Rudman clocked a time of 59.33 in her second run to end the day in 11th place overall. Pikus Pace put in another solid run to finish second, with Nikitina slipping to third.
But it was Yarnold who took the plaudits again, going even quicker than in  her opening round, her time of 58.46 was almost a fifth of a second better than the next best run, by Pikus Pace, and saw her take a commanding 0.44 second lead into day two.
Amy Williams, commentating for the BBC, was among those pleased to watch her performance. "Lizzy has a huge lead. It's going to give her so much confidence," she said. "She has to be consistent. There's no reason why she can't win gold for us."
The women's skeleton reaches its climax tomorrow (Friday) with heats three and four due off at 3.40pm and 4.50pm respectively.
University of Bath graduate and Mechanical Engineering PhD student gets his Sochi campaign off in the men's skeleton tomorrow (Friday), along with British team-mate Kristan Bromley.  Heat one gets underway at 12.30pm and heat two at 2pm.  The men's skeleton concludes on Saturday.
British Skeleton has its headquarters at the University of Bath where British athletes hone their starting skills on the unique push-start track.
You can find a full schedule of the Sochi action featuring athletes with Bath links on the Team Bath website.
You can catch the pick of the action on the big screen at the University of Bath Sports Training Village.
A full list of current standings is available on the Sochi website.
For further information please contact the Team Bath press office at Matchtight Ltd at press@matchtight.co.uk or on 01225 383518.