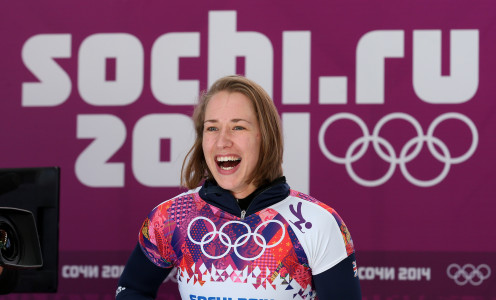 This afternoon British Skeleton's Lizzy Yarnold built on her excellent start in yesterday's heats one and two, to retain first place at the end of heat three.
The 25 year old completed the course in an emphatic 57.91, a new track record, solidifying her position at the top of the standings heading in to the decisive fourth run.
With a total time of 2:54:80 over the three heats so far, Lizzy leads her nearest rival, America's Noelle Pickus-Pace, by 0.78 of a second.
Bronze position is currently occupied by Russia's Elena Nikitina, who trails Yarnold by 0.97.
The medals will be decided after the fourth and final run, which gets underway at 4.50pm UK time.
TeamGB's other slider Shelley Rudman is in 13th position with a total time of 2:57:61.
British Skeleton has its headquarters at the University of Bath where British athletes hone their starting skills on the unique push-start track.
You can find a full schedule of the Sochi action featuring athletes with Bath links on the Team Bath website.
Catch the pick of the action on the big screen at the University of Bath Sports Training Village.
A full list of current standings is available on the Sochi website.
For further information please contact the Team Bath press office at Matchtight Ltd at press@matchtight.co.uk or on 01225 383518.