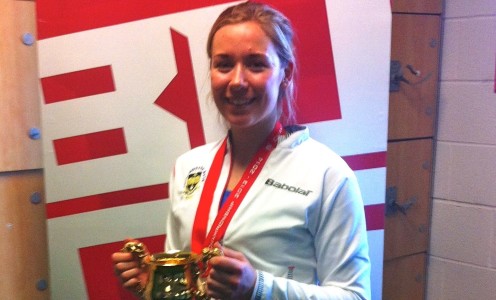 Sports Performance student Alex Walker is celebrating winning the British Universities women's singles title in an all University of Bath final.
Walker beat Economics student Steph Cornish, the number two seed, 6-0 6-3 in the final of the British Universities and Colleges Sport (BUCS) Individual Tennis Championships at Sheffield.
Walker, seeded six, overcame top seed Anna Fitzpatrick (East London) in the quarter-finals before beating another Bath student, seventh seed Natasha Starling (Business Administration) in the semis.
Walker and Cornish just missed out on a clean sweep of women's titles for the Bath players, losing their women's doubles final.
In the men's competition, Economics student Miguel Almeida reached the semi-finals of the men's singles. The unseeded player despatched number two seed Milan Krnjetin (East London) in the third round en route to the semis.
Meanwhile, the University of Bath women's first team have the opportunity to complete an impressive hat-trick of BUCS Team Championship titles when they play Durham in the final on Wednesday 26 March.
They reached the final with an 8-4 victory over Loughborough in the semi-final at the Sports Training Village. The men's team couldn't join them in the finals, going down 10-2 to a strong University of Stirling side.
"There have been some great performances and are rewards for the teams' consistent hard work throughout the year," said James Andell, who coaches the University of Bath teams.
"The players are all great ambassadors for the University of Bath and their successes also demonstrate the strong set-up that we have in Bath."
For further information please contact the Team Bath press office at Matchtight Ltd on 01225 383518.