University of Bath student Kristian Callaghan has been named among the first English athletes to be selected to compete at the Glasgow 2014 Commonwealth Games.
The 20-year-old Integrated Mechanical and Electrical Engineering student is a member of England's shooting team for the Games.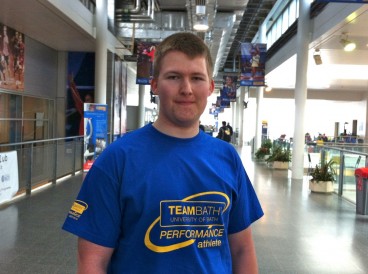 His selection comes just days after International Security student Alexander Beaton was chosen to swim for Guernsey at his second Commonwealths.
Callaghan, who is on the second year of his degree at the University, is selected for the small-bore pistol events in Glasgow and said he was excited to be named in the first England team for this summer's Glasgow Games.
"I'm pretty excited, this is definitely my biggest test yet," he said.  "I'm really looking forward to representing England at my first Commonwealth Games.
"This is a big positive step for my shooting career, so I think these games will provide me with a great experience and opportunity to showcase my event.
"It's looked on the cards for quite a long time so it's good to have that confirmed."
Callaghan's favoured event is the 25m rapid fire pistol and he aims to reach the final in Glasgow.
"I'm definitely looking to get into the final, that's an achievable goal. From there anything can happen," said Callaghan, who has also targeted competing at future Olympic Games.
"Hopefully this will be the first of many Commonwealth Games and I'm also aiming to progress to the Olympics."
Callaghan, a TASS (Talented Athlete Scholarship Scheme) scholar represented Great Britain at last year's Australian Youth Olympic Festival in Sydney, where he won Britain's first medal of the Games, a gold in the 25m rapid fire pistol. He followed that up with bronze in the 50m pistol.
He also competed at the 2013 World University Games in the Russian city of Kazan.
He said competing at big international multi-sport competitions has given him invaluable experience ahead of the Commonwealths.
"When you go to shooting championships it's very much the same set-up and environment, there's nothing out of your comfort zone. Going to something like the World University Games in Kazan really helps giving you that experience," he said. "Opportunities like that don't come around very often."
Callaghan does some of his training at the University of Bath and some at the National Shooting Centre in Bisley in Surrey.
Alexander Beaton is a member of a nine-strong Guernsey swimming team selected for Glasgow on Saturday (19 April). A University of Bath French and Spanish with European Studies graduate, he is currently for a Masters in International Security.
Glasgow is his second Commonwealth Games following his debut in Delhi.
He joins Tom Druce, another University of Bath graduate, in the Guernsey team for Glasgow. Druce ran the 400m and 4x400m relay in Delhi.
For further information about athletes with University of Bath links competing at the Games, please see the Glasgow 2014 pages on the Team Bath website.
For further information about sport at the University of Bath please contact the Team Bath press office at Matchtight Ltd on 01225 383518.