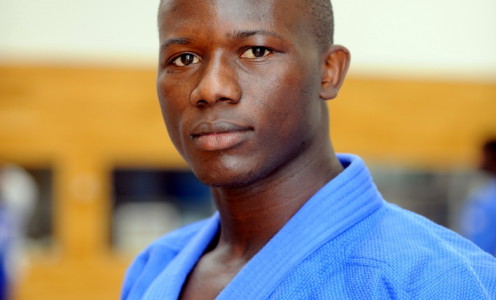 Team Bath judo player Emmanuel Nartey is aiming to make history when he competes at his second Commonwealth Games this summer.
Nartey has been selected to represent Ghana at the Glasgow 2014 Games and is likely to be one of just a handful of judo players to contest both the Manchester Games in 2002 – when judo last appeared at Commonwealths –  and return to action in Glasgow.
The 30-year-old is ranked 29th in the world in the under-73kg category, making him the second highest placed athlete from a Commonwealth country after Australia's Jake Bensted at 28.
If Nartey pulls out the stops in Glasgow he could become the first Ghanaian judo player to win a Commonwealth Games medal – and even the first judoka from an African nation to win Commonwealth gold.
"Some people have said I should win it on paper, but judo is a very complex sport," said Nartey, who is coached at the University of Bath by Juergen Klinger.
"I am one of the contenders for the medals. I won't let that distract me though. I need to go there focussed on the day and make sure everything is perfect."
Nartey has already made history by becoming the first Ghanaian judoka to compete at an Olympic Games – he represented his country at the London 2012 Games and is now targeting a second successive Olympics at Rio in 2016.
"I'm coming towards the end of my career and I want to end everything as strongly as I can. I want to leave a long-lasting legacy," he said. "My main judo focus after Glasgow will be the Rio Olympic Games, and let's see what happens."
Nartey says it's fantastic to have judo back at the Commonwealth Games after missing out on the programme for Melbourne in 2006 and Delhi in 2010. Glasgow will be only the sport's third appearance at a Commonwealths.
"It's amazing to have judo back at the Commonwealth Games," he said. "It's a very exciting environment, living in the same Games Village as athletes from lots of other sports. It's not something judo players have the opportunity to experience very often.
"I'm 100 per cent sure the organisation of the Games in Glasgow will be perfect, just like the Olympics were in London," he added.
Nartey may also meet up with an old adversary in Glasgow. Twelve years as an 18-year-old he lost his opening round under-66kg bout in Manchester to Scotland's David Somerville. The Scot went on to win silver and is now National High Performance Coach at Judo Scotland.
Nartey, who serves in the British Army, is also preparing for another tough new challenge – he is about to begin studying for a PhD in Economics at the University of West of England, where he will examine global financial markets.
He becomes the eighth athlete with University of Bath links to be selected to compete at Glasgow 2014. Athletes from five countries, England, Ghana, Guernsey, Scotland and Wales have been selected to compete in  four sports – athletes, judo, shooting and swimming.
For more information about sport at the University of Bath please contact the Team Bath press office at Matchtight Ltd on 01225 383518.