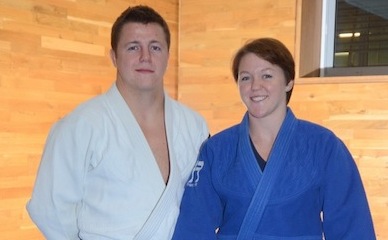 Five University of Bath–based judo players, including the brother and sister pair of Ben and Megan Fletcher, were today (Tuesday) named in the England team to compete at the Glasgow 2014 Commonwealth Games.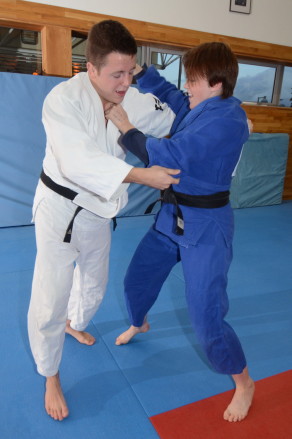 The Fletchers (pictured right) are joined in the team by Jan Gosiewski, currently studying for a Biomechanics PhD at the University of Bath, as well as graduate Tom Reed and by Gary Hall, meaning Bath judokas take up five places on England's 14-strong team.
University of Bath graduate Gemma Gibbons, a former Team Bath judo player, also represents England in Glasgow.
Ben Fletcher, aged 22, warmed up for today's announcement by winning gold in the under-100kg class at the London British Open, a senior European Cup competition at the weekend.
He said he's looking forward to competing at his first Commonwealths in a team that also includes his sister. "I'm really looking forward to competing and hopefully winning a medal. It should be a great experience and it will be really nice to have Megan there too," he said.
"The whole judo group here is very close, so it will be like a big family trip," he added. "The result at the weekend was really good for my confidence."
Sister Megan, aged 24 and currently working part time at The Castle School in Thornbury, took bronze in the women's under-70kg class at the London British Open. She's looking forward to being in the same team as her brother.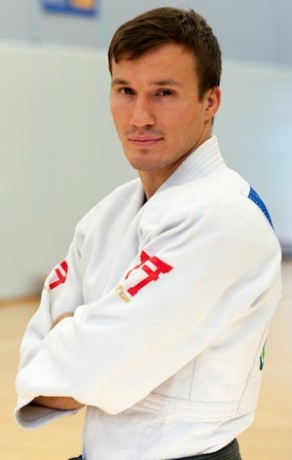 "It's nice that we'll be there together. It will be good to have someone else from your family there who knows exactly what you're going through," she said.
"I'm really excited about competing at my first Commonwealth Games," she added. "I want to win a medal and I'm hoping it will be gold."
University of Bath student Jan Gosiewski (pictured right) is selected to compete in the under-73kg slot after returning from a knee injury. Gosiewski has a Mechanical Engineering degree and an MSc in Design Engineering from the University of Bath and is currently studying for a PhD in Biomechanics.
A Trendell scholar, he said: "I'm thrilled to be representing England at a Commonwealth Games, especially as I've been injured for a big chunk of the qualification period.
"I'm really looking forward to competing at a multi-sport event. It's going to be a great atmosphere and the rivalry between the Commonwealth nations is quite unique," he added. "I'm in good shape and I'm feeling confident."
Tom Reed, a Business Administration graduate and Team Bath judo player, will fight at under-81kg at Glasgow 2014. He finished fifth at the London British Open at the weekend.
Gary Hall completes the five-strong list of current Team Bath judo players to feature in the England team for Glasgow. He took bronze in the uner-90kg class at the weekend, a category in which University of Bath Coach Education and Sports Development graduate Andy Burns took gold. Burns is hoping to secure the Scottish berth at Glasgow 2014.
Gemma Gibbons, a University of Bath Sports Performance graduate and London 2012 Olympic silver medallist, competes in the under-78kg for England at Glasgow 2014.
Emmanuel Nartey, who currently trains at the University, has already been selected to represent Ghana at the Games. He fights at under-73kg, the same weight division as Gosiewksi.
Judo returns to the Commonwealth Games programme in Glasgow for the first time since Manchester in 2002. Nartey is likely to be one of just a handful of judo player who competed at Manchester and again at Glasgow.
Meanwhile, Economics student Tom Bielich has been selected as a member of the Isle of Man swimming team to compete at the Games.
Bielich will contest butterfly, freestyle, individual medley and relay events at Glasgow 2014. He is coached at the University of Bath by Chris Alderton.
The latest selections bring the total number of athletes with University of Bath links names in teams for Glasgow 2014 to 24.
They come from six countries – England, Ghana, Guernsey, Isle of Man, Scotland and Wales, and will compete in four sports – athletics, judo, shooting and swimming.
You can watch our film about Ben and Megan Fletcher on Team Bath TV.
For further information about Team Bath please contact the Team Bath press office at Matchtight Ltd on 01225 383518.