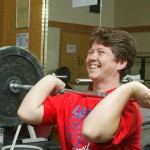 Sport/Event: Weightlifting, 69kg
Date and place of birth: 27 July 1975, Swansea
Height: 1.60 metres
Weight: 70 kg
Club: Swansea, LWC
Coach: Karl Grant, Tamas Feher
Representational honours: Wales (Commonwealth Games Melbourne 2006, CWG Delhi 2010, CWG Glasgow 2014), Team GB (Olympic Games, London, 2012)
Biography:
Natasha Perdue turned 37 on the day of the opening ceremony for London 2012 and was the oldest member of Britain's five-strong weightlifting team at London 2012.
A three-time Commonwealth Games competitor, she is a well respected and experienced member of the weightlifting community.
As part of the Team GB weightlifting squad at London 2012, she followed in the footsteps of her father, Terry Perdue, who represented Britain in the 1968 and 1972 Olympics.
Career highlights:
Selected to represent Wales at Commonwealth Games, Glasgow, 2014
Selected to represent Team GB at Olympic Games, London, 2012
Selected to represent Wales at Commonwealth Games, Delhi, India, 2010
Selected to represent Wales at Commonwealth Games, Melbourne, Australia, 2006