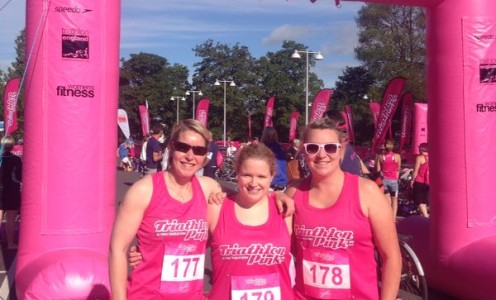 The University of Bath provided a stunning backdrop for the second event of the Triathlon Pink series on Sunday 8 June.
Women from across the south west turned out to experience their first taste of a 'pink' triathlon and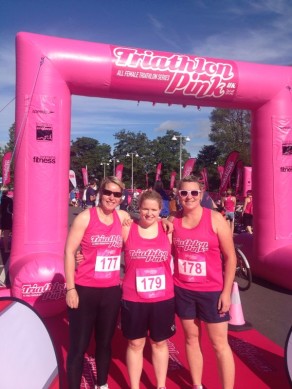 none were disappointed.
Following on from a very successful first event in Crystal Palace last weekend competitors took part in all events in Bath – Triathlon Pink, Triathlon Pink Kids and the Pink Pyjama Fun Run created so men can also be part of the day and lend their support raising funds for our charity Breakthrough Breast Cancer.
They included a team of staff from the University of Bath Department of Sports Development and Recreation. Jemma Plummer, a duty manager, was the first participant across the finish line in Triathlon Pink.
And Plummer, together with Clare Pell and Sarah Stone, both from our facilities sales team, raised hundreds of pounds for Breakthrough Breast Cancer.
The Askew family from Somerset were also among the participants, turning out in force with eight people taking part. Melanie, the mother of six is embracing Triathlon Pink with the whole family getting involved. Two of her sons' 9-year-old Zedekiah, and 11-year-old Israel joined their older sister, 13-year-old in the Triathlon Pink kids race. While daughters Naomi and Felicity took part with mum in the short course Triathlon Pink event.
Husband Jacob was not going to miss out taking part with eldest son Asher completed the 3km Pink Pyjama Fun Run. The family are acquaintances of keen triathlete and member of the Bahraini Royal Family, His Highness Sheikh Nasser bin Hamad Al Khalifa.
"I never in my life thought I would be discussing triathlon with anyone given that until eight weeks ago I had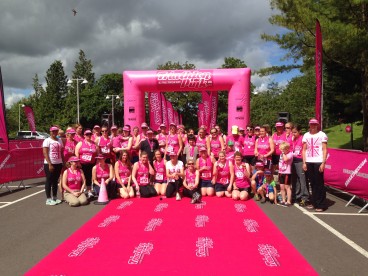 never in my life run more than 2km, hadn't cycled further than the local shops as a child (and not at all for 25 years) and had only swum for
fun," she said. "But my children were very inspired by His Highness Sheikh Nasser and his triathlons and I wanted to give them something to be proud of me for as well.
"What a fantastic event, the whole family had such a great time. I actually finished second today which is a vast
difference from normal. This is nothing like any event I've ever seen, was so easy, looks amazing and the atmosphere was second to none.
"The Crown Prince (of Bahrain) even messaged last night to wish us good luck, my son asked if he could come down
and watch," she said.
Jan Cromey finally ticked of a long held dream of completing a triathlon when she crossed the line. Finding other triathlons a little daunting by the equipment required, when she read about Triathlon Pink, she rallied her friends and family to do the Bath event and team '50 Shades of Pink' was born.
The event marked a significant milestone in Jan's life – 20 years after being diagnosed with breast cancer at just 28 years of age with two young sons, Lewis aged 3 and Matt 2.
"I had no knowledge of it, I thought it was something only older women got. There was no family history, so it came as a complete shock.
"You've managed to bring my dream to life," said Jan after the finish.
Joining Jan was best friend Lynne who thoroughly enjoyed her first triathlon experience. "We are always coming up with great things to do but this is right up their, we'll absolutely be back next year," said Lynne.
Lisa Pringle, of Sport 3 Events UK the race organisers said they were delighted with the turn out for the second event of the series.
"We couldn't be happier with the way the event went today, the University of Bath is just a stunning venue and from all the great feedback from the ladies will continue to grow from strength to strength. Next year we will target ladies from the wider regions to spend the weekend in Bath and for is one of the most beautiful places for people to come and spend the weekend then do Tri Pink on the Sunday," she said.
The course wound its way around the University of Bath grounds with the swim leg held in the pool at the Sports Training Village. Triathlon Pink is targeted at women of all fitness abilities, ages and backgrounds who train for fitness rather
than competition. The appeal for women is that anyone can complete one of the distances with a short preparation. Triathlon Pink UK is more than just an event, it will enhance the lives of women in the UK and for some it will be a life changing experience.
Triathlon Pink UK has partnered exclusively with Breakthrough Breast Cancer as their official charity and will work with the
women of Britain to meet the goal of raising £1 million by 2018. Each Triathlon Pink event is held in swimming pools and on closed park roads. They are safe and provide full support to the participants taking on this life-enhancing experience.
The UK series includes support events such as the Triathlon Pink Kids for boys and girls aged 13 years and under.
For anyone considering doing a Triathlon Pink event there are three events left in the series.
Registrations for all 2014 Triathlon Pink UK events are available at www.triathlonpink.co.uk