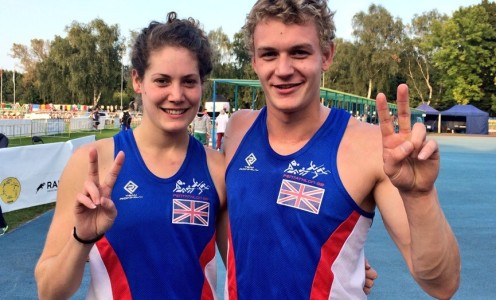 Kate French and Joe Evans rounded off Britain's Modern Pentathlon World Championship campaign on a high note by winning mixed relay silver today (Sunday).
The young pair fought well across the day before being beaten to gold by Laura Asadauskaite, Lithuania's London 2012 Olympic champion, and Justinas Kinderis, the 2013 individual world champion.
French said:  "It's brilliant we just came to get as many medals as possible and couldn't do it without the support of the National Lottery."
Evans added: "It's probably the most fun event we do, I really love the relay. It's obviously half of the distance but you have a pair and it's brilliant fun and it would be brilliant if it got into the Olympics."
It means the British team return home from Warsaw with three medals following Samantha Murray's individual gold on Friday – she becomes only Britain's fourth woman modern pentathlon world champion.
Murray, French and Freyja Prentice also won team silver.
Jan Bartu, Performance Director of Pentathlon GB, which has its National Training Centre at the University of Bath, said: "This is a fantastic step on the path to Rio.
"It's important for the athletes and coaches to understand where we are and what we're capable of. These championships have given us the hope that we're heading in the direction."