Top tennis returns to the University of Bath next month with the annual Aegon GB Pro-Series tournament moving from spring to autumn for the first time.
The event is run by the LTA and held on the indoor courts at the Sports Training Village.
Free for spectators
Now in its ninth year, the week-long tournament is free for spectators to watch and is aimed at players in the early stages of their professional careers.
There's a $25K prize fund for women's event, which features singles and doubles competitions and is likely to attract players ranked between 140 and 250 in the world.
With a $15K prize kitty, the men's competitions will feature players ranked 250 to 900.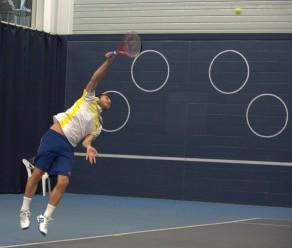 The tournament has traditionally been held in March but has moved to November for the first time this year and runs from Sunday 2 to Sunday 9 November.
A warm and friendly welcome
LTA Tournament Director Julie Piper said: "I am looking forward to returning to Bath and local tennis fans have much to look forward to as well. We have always received a warm and friendly welcome and I am sure this year will be no different.
"Both the University of Bath, with its excellent facilities, and the city are very popular with the players on the ITF pro-circuit. Over the years the event has attracted a high calibre of player, so it gives spectators the opportunity of spotting the stars of the future before they go on to play in higher profile events."
Barry Scollo, Director of Tennis at the University of Bath, said: "We're looking forward to hosting the tournament again this year. It's always great to see so many talented young players in action at the event each year and we're always particularly delighted that spectators can come along to the Sports Training Village and watch for free."
Players to have graced the courts in past tournaments at the University include Jo-Wilfried Tsonga, current world number 12, who won the back-to-back men's singles tournaments in 2006.
And there was local success last time around, with Team Bath MCTA player Lisa Whybourn capping a fantastic week's tennis by winning the women's doubles title with German partner Nicola Geuer in March 2013.
Further information is available from the LTA website or the tennis pages on the Team Bath website.
For further information members of the media can contact the Team Bath press office at press@matchtight.co.uk or on 01225 383518.