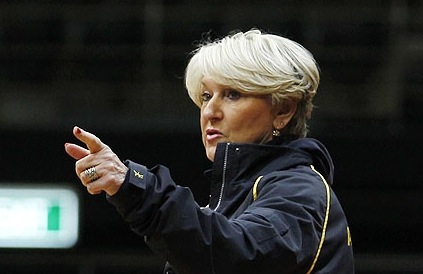 Team Bath's netball coaches are to benefit from the advice and guidance of one of the most respected figures in the sport, former Australian national coach Norma Plummer.
Plummer, who coached Australia to two World Championships, will spend a month at the University of Bath, where she will assist Team Bath's netball coaches and work with Team Bath's Superleague players.
"This is a massive coup for us," said Jess Thirlby, Team Bath's head coach. "Norma is probably one of the most iconic and successful international coaches there has ever been.
"She knows what it takes to win and to sustain success. That's what we're trying to achieve at Team Bath. The competition is getting tighter in the Superleague and we want to make sure we're always one step ahead of the game.
Ripple effect
"A lot of the work Norma will do will about continuing professional development of our coaches," she added. "We want her to share her knowledge and experience, and be very honest with us. That way there will be a ripple effect for many months and years to come.
"At Team Bath we're always looking to better ourselves as players and coaches. Getting constructive feedback from one of the world's best can really help us. In turn we can hopefully deliver higher quality coaching and our athletes and teams will improve.
"We're also aiming for her to have a wider impact on coaching across the region in partnership with Netball South West."
During an illustrious playing career, Plummer played for the Australian side that won the World Championships in 1975 in New Zealand. She also captained the national team in four tests.
Plummer, who arrives in Bath next month, has been coaching since 1967, when she took on the role of captain/coach of Melbourne Netball Club. She coached the Australian under-21 team that won the 1996 and 2000 World Youth Cups and coached the Australian senior side from 2004 to 2011 – a spell that saw them secure 67 victories in 89 tests – a 75 per cent success rate.
World Championships
Under her stewardship Australia won the World Championships in 2007 and again in 2011. She coached Australian ANZ Championship side West Coast Fever from 2012 to 2014.
Team Bath are the most successful team in the history of the Superleague, having won five of the nine campaigns contested to date.
Team Bath get their 2015 Superleague campaign underway with trips to Team Northumbria and Manchester Thunder, followed by a mouth-watering televised home game against last season's runners-up Surrey Storm on Monday 9 February.
Tickets for Team Bath's home games are available to buy now via Ticketline and Sky Tickets.
Carter Jonas are Team Bath Netball's property partner. Surridge are the official kit supplier and Skins provide the team with compression wear.
For further information please contact the Team Bath press office at Matchtight Ltd on 01225 383518 or press@matchtight.co.uk