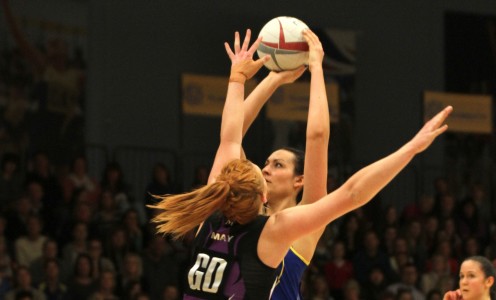 Team Bath head coach Jess Thirlby has welcomed the decision to play all 2015 Netball Superleague games until one team wins.
England Netball confirmed today that 2015 Superleague fixtures will be played to a finish, with no tied games.
Thirlby said the decision is good news for the fans but also for players and coaches.
"We 're pleased with this decision," she said. "We drew three of our Superleague games last season. After an exciting end to the 60 minutes, it is a bit of an anti-climax for the fans for it just to finish without one of the teams winning. This will keep that excitement going for a bit longer, so it's a positive move.
"A key characteristic of any successful team is to be able to handle pressure," she added.
"This change to the Superleague will be great for players and coaches because it will help them to absorb pressure and come out with a win. That's good news both for our Superleague campaigns, but also for players and coaches who will go on to represent England."
The change in ruling fits in with the current international standard of playing matches to a conclusion and with several high profile stalemates last year, the added excitement and pressure will make for an even more thrilling season.
If the scores are level at the end of 60 minutes games will head into a period of extra-time, consisting of two, seven-minute halves. If the sides are still locked together, the game will continue until one team has moved ahead by two clear goals.
In turn, Sky Sports have committed to a flexible schedule in all of their live broadcasts to make sure that fans are able to watch every single second as the drama unfolds.
High pressure games
Performance Competitions Manager at England Netball, Anneli MacDonald has welcomed the new change. "With six draws last season, we felt it was important that these high pressure games were played to finish in order to replicate the conditions played at major competitions," she said.
"This will benefit not only the players but also the fans of the Netball Superleague. The added excitement and pressure that comes with playing to a result will entertain all of those in attendance and the supporters tuning in to Sky Sports. This is just another reason we expect the 2015 NSL season to be the biggest and best ever."
Team Bath are the most successful team in the history of the Superleague, winning five of the nine campaigns contested to date.
Tickets
Team Bath will get their 2015 Superleague campaign underway with trips to Team Northumbria and Manchester Thunder, followed by a mouth-watering televised home game against last season's runners-up Surrey Storm at the University of Bath Sports Training Village on Monday 9 February.
A full list of Team Bath's fixtures for the 2015 Superleague are available on the Team Bath website.
Tickets for Team Bath's home games are available to buy nowvia Ticketline or via Sky Tickets.
For further information please contact the Team Bath press office at Matchtight Ltd on 01225 383518 or by email at press@matchtight.co.uk