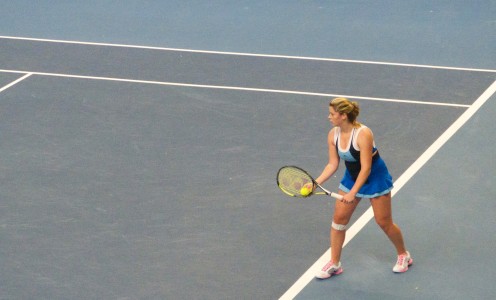 Day four of the Aegon GB Pro-Series Bath tournament yesterday, was a pivotal day for the players hoping to challenge for the title as the men's singles reached the Quarter Finals stage, the Women's singles second round matches also commenced.
With no home-grown Bath interest left in the singles tournament all eyes were on the men's doubles as Bath's Scott Clayton and Toby Martin took on their Bath counterpart Richard Gabb and his partner Jonny O'Mara.
Clayton and Martin got off to an erratic start as Gabb and O'Mara, the second seeds, raced to an early lead, going 5-0 up before Clayton and Martin, seeded third, managed to snatch a game before going down 6-1.
The second set was the polar opposite to the first swinging in favour of the Clayton and Martin who took the set 6-1 to move the contest into a deciding set.
This would prove to be the battle of the afternoon going to a tie-break which, after a string of exciting rallies, finished 10-7 to Gabb and O'Mara. Gabb and O'Mara will now face O'Hare and Salisbury in the final which will take place third on court 1 today (not before 13.30).
In the men's singles competition top seed Daniel Smethurst faced Frenchman Nicolas Rosenzweig. A match-up that saw Smethurst progress to the semi-finals after a challenging two set match. The first set started very comfortably for the top seed as Rosenzweig sometimes seemed to make it easy for Smethurst to put points away at the net.
Smethurt broke his French opponents serve at 4-4 and won the set 6-4. The Second set was a lot closer as the Frenchman tried to attempt a fight back but Smethurst held on to take the set 7-5 and will now face fifth seed, Joshua Milton, in the semis. Milton comfortably dispatched his opponent Adam Chadaj in two straight sets.
Today sees the women's competition reach the quarter-final stage as Harriet Dart, the only British player left in the women's singles, will face the tough task of taking number one seed Calga Buyukakcay from Turkey who beat former Bath player Sarah Beth Askew yesterday.