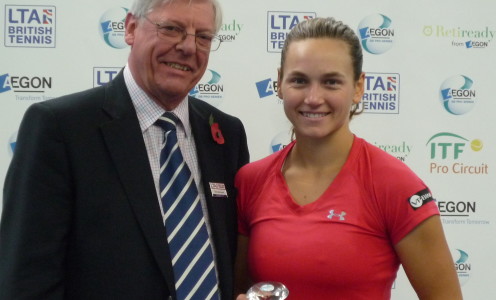 The Aegon GB Pro Series men's singles title went to Belgium's Maxime Authom whilst Stephanie Vogt took her third title of the Series in the equivalent women's event.
The 24 year old Vogt, from Liechtenstein, followed up on her $15,000 singles win in 2013 and doubles title in 2012 with an excellent win over Italy's Alberta Brianti 6-3; 7-6.
In the Sunday final, Vogt closed out the first set comfortably and then raced to a 6-1 lead in the second set tiebreak. Brianti won the next two points but Vogt proved too strong and took the title.
After her win, Vogt commented: 'this is a great way to end the season for me. I always enjoy coming to this city and feel very comfortable playing here. It is such a nice atmosphere with the university'.
Authom largely outplayed fifth seeded Briton Joshua Milton to take the win 6-2,6-4. The 27 year old from Belgium survived a marathon match in the quarter finals against Sandro Ehrat 6-3, 3-6, 7-6, but used his experience from the last few weeks to beat Great Britain's Josh Milton 6-2, 6-4 in the title match.  Milton had earlier provided an upset win at the event played at the University of Bath Sports Training Village when he was a semi-final winner over top seed David Smethurst.
Reflecting on the week Maxime said 'I have had a great week in Bath, and I am very happy to win my fourth tournament in a row. I am playing well. I am very tired but very happy, and I hope I can come back to Bath and play here again in the future'.
The Dutch-Swiss combination of Lesley Kerkhove and Xenia Knoll  took the women's doubles title with a 6-3, 6-1 win over Barbara Bonic and Pemra Ozgen. Tara Moore, playing with Russia's Marta Sirotkina, was the only GB semi-finalist in this event.
On Friday David O'Hare of Ireland and Britain's Joe Salisbury had taken the men's doubles title.
Barry Scollo, Director of Tennis at the University of Bath, said: "It was great to see so many nations represented again this year. Bath remains a popular place to compete for both national and international players and makes a fantastic tournament venue.
"It was great to see teenagers from the academy gain wild cards in to the qualifying event, namely Eden Richardson and Maria Budin both giving great account of themselves at this level. We also had a number of University students enter from the 1st team which really shows University performance tennis is on the up."