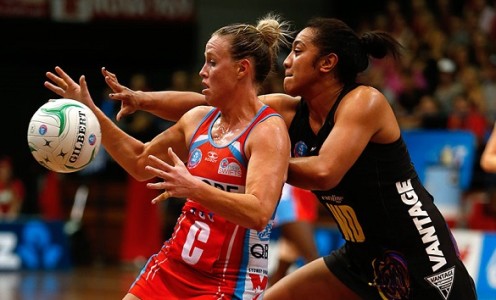 Team Bath netball has signed its first overseas player of all-time as part of an innovative reciprocal partnership with New Zealand's Kia Waikato Bay of Plenty "Magic" franchise.
Elizabeth "Bessie" Manu will join Team Bath to play for the franchise in 2015 alongside a coaching role at a top local school, Kingswood. This follows on from a number of interactions between Team Bath and the Magic franchise.
Manu, who arrived in Bath this week, could have an early taste of her Superleague opposition when Team Bath play a tri-tournament against Surrey Storm and Hertfordshire Mavericks on November 29th.
Team Bath will also play two warm-up matches against Northern Ireland on December 5th and 6th at the University of Bath's Sports Training Village. Last week they took on Scotland in two friendlies.
Former New Zealand U21 defender Manu is renowned for her reading of the game and for her anticipation. She can play in the circle or at wing-defence.
She comes to Team Bath from Kia Magic where she has been training and playing alongside the top Silver Ferns defensive duo.
Manu said: "I am very excited about being in Bath and playing in the Superleague. Team Bath is one of the most successful sides and it will be interesting to bring my experience of the ANZ which is the premier league for all Australian and New Zealand players as well as developing my game and my coaching skills whilst here".
Thirlby commented: "At Team Bath we like to push the boundaries and seek constant improvement. I believe that Manu will bring a wealth of knowledge with her and we will help support her development, too".
Kingswood School, already keen supporters of Team Bath Netball, are delighted to have a coach of Manu's standing. Headmaster Simon Morris commented: "It is terrific that someone of Bessie's calibre has agreed to join Kingswood and help us further develop our Netball. I am equally delighted that we are developing such a strong relationship with Team Bath".

Manu will join an array of exciting and talented players with the Superleague getting underway in January. The final Team Bath squad for the season will be announced by Head Coach Jess Thirlby on December 3rd.
Team Bath get their 2015 Superleague campaign underway with trips to Team Northumbria and Manchester Thunder, followed by a mouth-watering televised home game against last season's runners-up Surrey Storm on Monday 9 February.
A full list of fixtures is available from the Team Bath website at http://www.teambath.com/sport/netball/fixtures-results/
Tickets for Team Bath's home games are available to buy now via www.teambath.com/events/ticketline and via Sky Tickets.
Carter Jonas are Team Bath Netball's property partner. Surridge are the official kit supplier and Skins provide the team with compression wear.
Team Bath's 2015 long squad
Rosie Allison, Shaunagh Craig, Asha Francis, Lauren Dent, Rach Shaw, Ellie Gibbons, Mia Ritchie, Yas Parsons, Amanda Trounce, Jazz Scott, Danielle McFarlane, Scarlett Williams, Kyra Jones, Nicole Humphrys, Claire Brownie, Stacey Francis, Sam Cook, Jenna Murie, Ashleigh Jay, Sarah Penny, Elizabeth Manu.
For further information please contact the Team Bath press office at Matchtight Limited on 01225 383518 or press@matchtight.co.uk