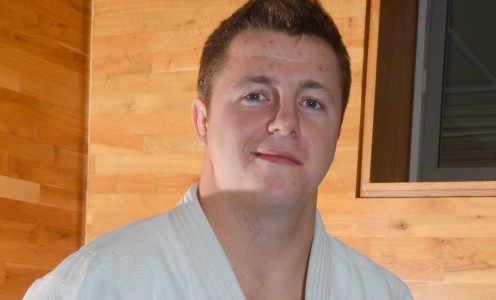 Coach Juergen Klinger was full of smiles this week after his Team Bath judo squad returned from the British Championships with a bag of medals including three golds.
University of Bath student Jan Gosiewski, Gary Hall and Ben Fletcher took gold in the 73kg, 90kg and 100kg weight categories respectively.
With Adam Hall and Conor Murphy taking silver and bronze at 100kg the Team Bath squad pulled off a clean sweep of the medals in that event to add to the one-two from Hall and Sam Potts in the 90kg class.
Fletcher's sister and Commonwealth Games champion, Megan, faced a re-run of her Glasgow 2014 semi-final against Scotland's Sally Conway and this time the honours were narrowly reversed with Fletcher missing out by the narrow margin of two penalties to one.
Tom Reed, a University of Bath Management Graduate, faced disappointment at 81kg – again in a re-run of Glasgow – going down  by Ippon to Owen Livesey to take silver.
Team Bath's final medallist was a bronze won by Chloe Robyns-Landricombe in the U21 event at 57kg.
"We have had a fantastic championships", said Klinger.  "Our athletes were very focussed and mentally very strong.  We also have five or six other players who couldn't compete because they are injured or coming back from injury. So it shows the true strength in depth of the programme based at the University".
For further information members of the media can contact the Team Bath press office at Matchtight Ltd on 01225 383518 or at press@matchtight.co.uk