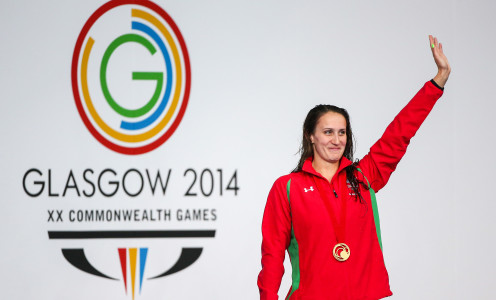 Commonwealth Champion Jazz Carlin has moved to the British Gas National Centre, Bath where she will base her preparations towards the Rio 2016 Olympic Games.
Carlin became Wales' first female Commonwealth Champion in 40 years after winning the 800m Freestyle in Glasgow this summer and then crowned an impressive year with European titles in the 800m and 400m Freestyle as well as medals at the World Short Course Championships.
She has begun training with Head Coach David McNulty at the centre and joins Olympic medallist Michael Jamieson, and Commonwealth Champions Chris Walker-Hebborn and Siobhan-Marie O'Connor.
Carlin previously trained at Wales National Pool in Swansea until former coach Bud McCallister took up a role in Australia earlier this year.
"I really want to thank all of the staff and coaches at Swim Wales for their support over the years," said Carlin. "It has meant so much to me and has helped me to achieve so much in my career to date.
"It's been a tough decision to make the move to Bath. But I'm really looking forward to working with David [McNulty].
"I've worked with David a lot this year as a coach in the build up to the European Championships and World short course Championships, and I am confident that Bath currently offers the best programme for me.
"I still have a big dream of competing at an Olympic Games and I am still very determined to achieve this. My only focus now is preparation for 2016.
(with thanks to British Swimming as source of this material)