New for January 2015, Wellsway School (linked with Saltford Tennis Club) are providing after school tennis sessions on Fridays with LTA qualified coaches from Team Bath.
This is the second Team Bath Tennis hub to be launched after a successful coaching programme at Saltford Tennis Club in the Autumn.
The Wellsway tennis programme offers 10 weeks of coaching for young players on Friday afternoons at the Wellsway Sports Centre.
The programme runs from the 16th January to the 27th March and there is something for all ages and abilities. For primary school age groups there will be mini tennis, LTA tennis curriculum and fun games, and for secondary school ages junior touch tennis and match play tennis.
There is also a high tempo cardio tennis fitness session available for adults, for those who want to have fun whilst getting fit.
The sessions are being run by coach Tom Ellis, a Level 3 qualified LTA coach. He said "I am delighted at the opportunity for Team Bath Tennis to become an even bigger part of the local community. With Wellsway School's fantastic indoor facilities and large catchment area I am confident it will be a great success on a Friday evening. We have a highly experienced and motivated coach in Tom Osbourne running the sessions, alongside our apprentice coach Nick Spurling who fresh from his Level 3 coaching qualification is itching to get stuck in!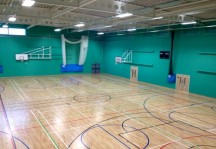 This is our second link within the BANES locality as we also have a partnership with Saltford Tennis Club providing their coaching programme on a Wednesday evening and Saturday morning."
You can find further information about both programmes on the Team Bath website: www.teambath.com/tennis
Or contact Tom Ellis for further information on 01225 384247 or by email at: te256@bath.ac.uk
You can book and pay over the phone by calling the Team Bath University reception on 01225 386339.