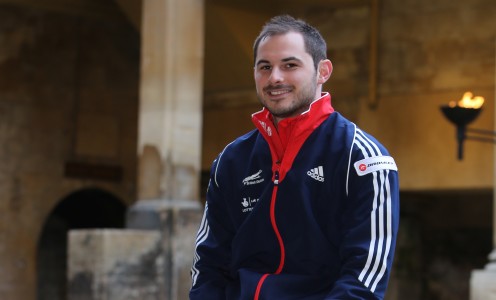 Bobsleigh and skeleton have their World Championships, starting today in Winterberg, Germany, in an event which will see University of Bath postgraduate student and Sochi Olympian Dominic Parsons go in search of a first "major" Championships medal in the men's skeleton.
Bobsleigh named a 14-person squad last week which includes the World no.1 junior female pilot Mica McNeill and twice summer Olympian Simeon Williamson.
Williamson, one of seven push athletes selected, has emerged from the sport's talent development squad.
Performance Director, Gary Anderson commented on the season so far and the aims for British Bobsleigh during this Olympiad: "It's very much a transition year for us in that our top push athletes are now producing the results as pilots. Liam Deen has also shown that with the fastest starting crew available he can be up there challenging the world's best.
"Our women have constantly produced top-10 results in World Cup and in Mica McNeill we have the No. 1 world ranked junior pilot.
"But for us it is all about the trajectory towards 2018, the World Championships in Winterberg are a stepping stone to that. Four years ago at the World Championships we came 22nd – that shows how much this programme has come on in the last four years".
By contrast British Skeleton named an established squad which is sponsored by JLT Specialty.  British Skeleton's Performance Adviser Andreas Schmid and Head Coach Eric Bernotas have shown faith in all six British sliders who have performed at World Cup level this season by naming them in the squad.
The British Skeleton squad is led by Olympic and European Champion, Lizzy Yarnold, who secured an overall silver medal in the 2014/15 World Cup Series at the last race of the season in Sochi, having won five golds and a silver at World Cups this year.
Laura Deas and Rose McGrandle will join Yarnold in the women's World Championship squad, having both had excellent individual seasons.
Deas won two World Cup medals in her debut season competing at the highest level and McGrandle won bronze at the European Championships in La Plagne.  All three of GB's female sliders finished in the top-10 overall in the World Cup competition.
Yarnold shone again this year, following on from her Olympic gold and overall World Cup title in 2013/14. Five gold medals and a silver in seven races this season took the 26-year old from Kent to second place overall in the World Cup with 1531 points – just 20 behind Janine Flock of Austria, despite having missed one race completely in Canada before Christmas.
Yarnold also won the women's European Championships at the rescheduled race in La Plagne and will be targeting the World title in Winterberg – the only major title she is yet to win. Last time round, in St Moritz, she finished fourth.
Speaking on her return from the final World Cup race in Sochi, Yarnold said: "At the beginning of the season I set my target of winning the World Championships and I'm really pleased that my form this season has been at a level that now makes that goal realistic. I feel in great shape, my sliding has been consistent and I'm feeling really to motivated to get out there and do my best.
"It would be an honour to be the first British slider to hold the World, Olympic and European title all together, but I know that every athlete will be bringing their A-Game to Winterberg too, so I need to make sure I'm at my best".
Deas said: "I feel that this has been a big breakthrough season for me, winning two World Cup medals. The GB women are the top nation in the world right now and I will be going to Winterberg with confidence but no complacency. I still have elements that I can improve on before then".
McGrandle said: "I'm looking forward to the final race of the season and I'm very happy I have been selected to compete at the World Championships. This year has been challenging and at times I feel I have not been at my best but to collect another track record and a European Championship bronze medal this season has given me a real boost and I'm feeling positive about my sliding abilities.
"I can't speak more highly of the fantastic support team of staff I am working with and the wonderful support from friends and family. I have had some good performances on the track in Winterberg and I'll be putting every effort into producing my best".
The selection of Yarnold, Deas & McGrandle is not only a tremendous achievement from these athletes but also a deserved reward for the joint efforts of British Skeleton and UK Sport, as all three athletes came through the same group in the 'Girls4Gold' talent identification programme, sponsored by Ignite.
Dominic Parsons, Ed Smith and David Swift will fill the three places available to British Skeleton's male sliders for the World Championships.
Parsons, a post-graduate student at the University of Bath,  had a breakthrough year in 2013/14 as he won his first World Cup medal in Calgary, before finishing in the top-ten at his first Olympic Games, in Sochi. He also finished in ninth place at the previous World Championships in St. Moritz in early 2013.
Parsons' best results this season came in Konigssee and St. Moritz, with back-to-back fourth place finishes in an intensely competitive men's field, which was dominated by Martins Dukurs of Latvia.
The 27-year old has been extremely consistent throughout the 2014/15 World Cup season, finishing outside the top-10 just twice in eight races. Parsons, from Dulwich, London, mirrored the achievements of Laura Deas by finishing in fifth place in the overall rankings this season, with a tally of 1232 points.
Parsons also commented on his season, and the prospect of the World Championships: "To finish fifth overall in the World Cup standings this season gives me a pretty good set up for my progression through to the 2018 Games. During the season I've developed a good working relationships with our new World Cup coach Eric Bernotas, and the support from Bromley Sports has given a huge boost to my performances.
"The World Champs are the main goal this season and I'm hoping to produce my best performance of the season there". Parsons and Laura Deas will also contest the team event for GB.
Ed Smith's year was somewhat hampered by a leg injury, which forced him to sit out races in La Plagne and Igls, but the 29-year old showed promising signs in his comeback at the final race in Sochi where he finished 16th with two consistent runs. This took Smith to 21st in the rankings with 462 points.
Smith, of Bristol, finished in 15th at the 2013 World Championships and will be seeking to put a tough year behind him by regaining full fitness and producing a strong performance in Winterberg.
"It has been a really tough World Cup season, trying to compete with the best sliders in the world whilst carrying persistent injuries", said Smith. "Our support team has been great helping to keep me in a position where I can compete every week so I have to say a massive thank you to them.
"I'm proud of the grit and determination I've shown battling through this winter and I'm pleased that has been rewarded with selection for the World Championship squad. Hopefully we can finish the season on a high".
David Swift had a good season in the Intercontinental Cup and used his chance well at World Cup level when he replaced the injured Ed Smith in Igls.
Swift, from Newton Abbot, Devon, made a great entrance as he produced his highest World Cup finish in Austria, taking seventh place.
Swift said:  "I am really pleased to have been selected for the World Championships squad, this will be my first world championships and I am excited to race against the top sliders in the world and put in the best performance I can.
"The end of this season has been really encouraging so I feel I'm coming into form at just the right time. The squad this year is very strong and I see no reason why we can't have some great results to end an impressive year and provide some momentum moving towards the 2018 Games".
Performance Adviser, Schmid, said: "In the men's field, we have seen some fantastic results from Dominic and in Igls David Swift showed that he has the potential to perform at the highest level. What's more, it now looks like, subject to FIBT ratification, we now have three men qualified for world cup spots next year. So that's a big step up but the men's group know they still have a lot of room to learn and to develop".
BRITISH SKELETON & BOBSEIGH SQUAD LISTS
FIBT WORLD CHAMPIONSHIPS, WINTERBERG, GERMANY
SKELETON
WOMEN
Laura Deas (19/08/1989, Place of birth: Wrexham, North Wales)
Lizzy Yarnold (31/10/1988, Place of birth: Maidstone)
Rose McGrandle (24/01/1987, Place of birth: Milton Keynes)
MEN
David Swift (15/12/1984, Place of birth: Newton Abbot)
Dominic Parsons (08/09/1987, Place of birth: London)
Ed Smith (03/01/1986, Place of birth: Bristol)
BOBSLEIGH
MEN
PILOTS
Liam Deen (17/06/1981, Place of birth: London)
Olly Biddulph (12/01/1993, Place of birth: Taunton)
PUSH ATHLETES
Bruce Tasker (02/09/1987, Place of birth: Lawrenny)
Ben Simons (13/11/1986, Place of birth: Shrewsbury)
Andrew Matthews (26/10/1984, Place of birth: Slough)
Toby Olubi (24/09/1987, Place of birth: London)
Simeon Williamson (16/01/1986, Place of birth: London)
Brad Hall (16/11/1990, Place of birth: Chichester)
Jordan Smallin (03/01/1994, Place of birth: London)
WOMEN
PILOTS
Mica McNeill (25/09/1993, Place of birth: Consett)
Victoria Olaoye (02/09/1983, Place of birth: Westminster)
PUSH ATHLETES
Alesha Kiddle (17/08/1992, Place of birth: Braintree)
Nikki McSweeney (17/11/1988, Place of birth: Aylesbury)
Lucy Onyeforo (21/07/1983, Place of birth: Manchester)
Written with support from: British Skeleton