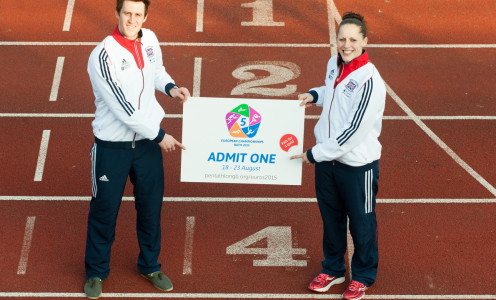 Olympians Mhairi Spence and Nick Woodbridge have called on the people of Bath – "our home city" – to turn out in force and back their bid for Rio qualification at this summer's Modern Pentathlon European Championships.
The major international competition, featuring more than 100 elite athletes from across the continent, is being staged at the University of Bath Sports Training Village from August 18-23, with tickets now on sale from as little as £1 for under-18s.
The University has been the training base for Pentathlon GB since 1998, during which time five Olympic medals have been won including gold for Steph Cook at Sydney 2000.
All the athletes on the programme live in Bath and Spence – who competed at London 2012, the same year she was crowned World Champion – is keen for local folk to come and experience their sport.
"It would be great for the people of Bath to see what goes on up here," said the Coach Education and Sports Development graduate.
"I speak to people in town, in the post office, having my hair cut and they ask me about what we do, so this is the perfect opportunity to really see for themselves what great facilities there are right on their doorstep. I think they will be pleasantly surprised.
"I've lived in Bath for 12 years, it's my home now. I studied at the university, I've trained here all that time – this is my turf and this is our turf as pentathletes. Hopefully we can use that to our advantage this summer.
"Every time we compete in front of a home crowd it's great. The spectators really build the atmosphere and push us on to perform even better."
Spence's views were echoed by Woodbridge, who is hoping to compete at a third Olympics next year having represented Great Britain at Beijing 2008 and London 2012 – eight qualifying slots for the 2016 Games in Rio will be on offer at the European Championships.
"If we could get people from Bath coming to support us, that would be great," he said.
"Modern pentathlon is a different sport for people to enjoy, certainly something you don't get to see every day.
"People also might not realise there is a national training centre here for an Olympic sport which has had so much success over the years.
"This is where we come every day, so we will be so much more relaxed and will have all our friends and family around for support in August.
"The European Championships took place in Britain four years ago at Medway and I think we are so lucky to be in that situation again, where there are eight Olympic qualification places available in our home country.  It is an amazing opportunity."
Tickets for the European Championships went on sale this week, priced from £6 to £21. Under-18s can attend for just £1.
As well as the individual and team competitions, there will be opportunities during breaks in the action to try out some of the individual sports which make up modern pentathlon – fencing, swimming, horse riding and a combined run and shoot event.
GB Performance Director Jan Bartu said: "I have been working here in Bath since 1998, before the Sports Training Village was built, and it has always been my dream to stage a big event here where we train every day.
"It is quite magical for me and my coaching team to finally realise this ambition."
For ticket information, visit www.pentathlongb.org/euros2015.