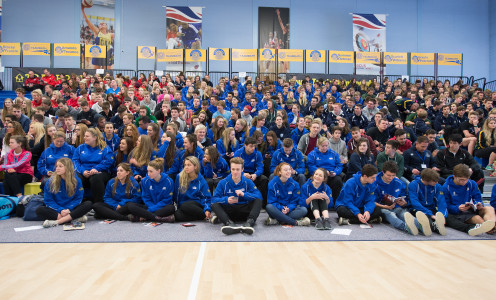 More than 1,800 college students from across Britain will get to experience the world-class facilities at the University of Bath this weekend when they compete in the AoC Sport National Championships.
The Sports Training Village will provide the venue for basketball, beach volleyball, cross country, football, hockey, netball, rugby, table tennis, tennis, trampolining and volleyball, as well as opening and closing ceremonies.  Evening meals will take place in the Claverton Rooms and Fountain Canteen on the university campus.
All of the athletes involved will represent both their college and region, with the Wilkinson Sword trophy being presented to the most successful region overall.
These are the first National Championships under the AoC Sport banner, the organisation having been formed in August 2014 following the merger of British Colleges Sport, English Colleges FA and the Association of Colleges Sport Policy Team.
AoC Sport Chairman Richard Atkins is delighted the championships are taking place at the University of Bath, saying: "The facilities are some of the finest in Britain.
"Everyone taking part in these National Championships has qualified through our regional structures, often against strong opposition.
"With over 1,800 students and 200 staff involved at the championships, 2015 will be another year offering all the participants the opportunity to showcase youth sporting talent in this country – something we should all take pride in."
The championships will get under way on Friday afternoon in football, hockey, rugby, tennis and volleyball before the opening ceremony takes place from 7-8pm.
There is a full day of action at the Sports Training Village on Saturday, from 8.30am to 6pm, while Sunday's schedule starts at 9am and concludes with the closing ceremony and Wilkinson Sword presentation at 3pm.