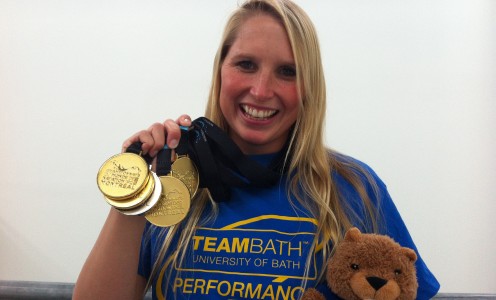 Stephanie Millward was in philosophical mood after a heavy cold ended her hopes of defending her four IPC World Swimming Championship titles this summer.
The University of Bath-based swimmer was not able to perform at her best during the weekend's British Para Swimming International Meet in Glasgow.
She failed to make the 18-strong British Swimming squad for the 2015 World Championships, as did Aquae Sulis Performance Swimming Club team-mate Aaron Moores, but is approaching the setback in her usual positive manner.
"I am a little annoyed at missing out but I am not surprised," said Millward, who won five medals at the London 2012 Paralympic Games.
"Everything seemed to be going well in training and I thought I would produce some really good swims but a stupid, nasty virus jumped in the way at the wrong time.
"It was just one of those things and I can't do anything about it. It is a missed opportunity but it means I won't have to taper for the World Championships now, so I can train all the way through and be even more ready for Rio 2016."
That preparation, with coach John Dougall, will be taking place at the Sports Training Village once again when the refurbished London 2012 Legacy Pool reopens on April 22.
"I cannot wait to get back to Bath," said Millward, who has been training at Millfield School and Frome Swimming Club during the renovation work.
"It is going to be so exciting to see all of the new things they have installed in the pool. The cameras they have put in will be a really big help in terms of analysis and looking back at my racing.
"I had a quick look in the pool last week and there was only a tiny bit of water in but it looked amazing. I took a picture and sent it to my mom, I was so excited."
Millward will next be back in action at the German Open from April 16-19.
For further information, please contact the Team Bath press office at Matchtight Ltd on 01225 383518 by email at press@matchtight.co.uk