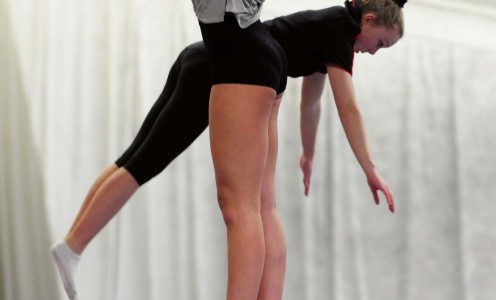 One of the largest sporting events in England returned to the University of Bath over the weekend as 1,800 college students took part in the AoC Sport National Championships.
It was the fifth successive year the three-day, 14-sport competition had been staged at the Sports Training Village, with students and organisers once again impressed by the facilities.
The students taking part were aged 16 to 19 and each had qualified to take part in the event through regional tournaments that took place in the autumn term.
As well as representing their region, the competitors were also treated to inspirational talks from, among others, former Team Bath Netball captain Pamela Cookey and Olympic and World skeleton champion Lizzy Yarnold, who trains with British Skeleton at the University of Bath.
Sports hosted at the university included basketball, beach volleyball, cross country, football, hockey, netball, rugby, table tennis, tennis, trampolining and volleyball.
The Wilkinson Sword trophy for the region with most points went to the South West.
University of Bath Vice-Chancellor, Professor Dame Glynis Breakwell, took in some of the competition on Sunday and was impressed with the very high standard on show.
She said: "We have a proud tradition of sporting excellence here at the University and were delighted to host the national championships. It was great to see so many young athletes from across the UK enjoying our world-leading facilities here at Bath."
For further information, please contact the Team Bath press office at Matchtight Ltd on 01225 383518 by email at press@matchtight.co.uk