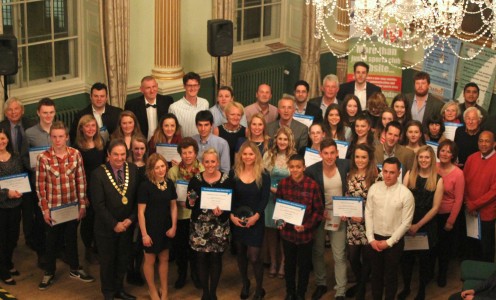 The achievements of volunteers and coaches with clubs based at the University of Bath were celebrated at the Bath & North East Somerset Council 2015 Chairman's Sports Awards this week.
Paralympic sprinter Katrina Hart, who is coached by Rob Ellchuk at the Sports Training Village, joined Cllr Martin Veal, the Chairman of B&NES, to present the awards during a civic reception at The Guildhall on Tuesday.
Team Bath Buccaneers Hockey Club received two honours, with Paul Atkins being named as Participation Coach of the Year for his work with the Back to Hockey programme and in local schools. Royce Menezes claimed the Official of the Year accolade.
Andrew Turner won the Volunteer in Sport award for his work with Aquae Sulis Performance Swimming Club and John Dougall, who trains Paralympic swimmer Stephanie Millward, was named as Performance Coach of the Year.
Minerva Bath Rowing Club, who work with the GB Rowing Team Start Programme at the University of Bath, were named as Sports Club of the Year.
All award nominees received a certificate and winners in each category were presented with a piece of engraved Aqua Blue Glass.