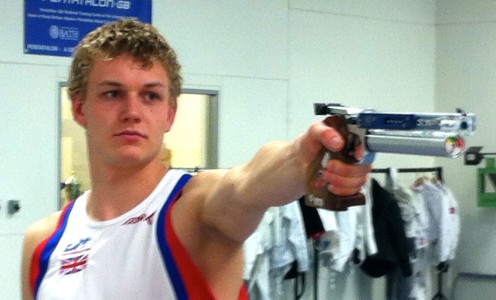 All four Pentathlon GB men have made it through to Saturday's final at World Cup 3 in Rome after impressive performances in Thursday's qualification round.
University of Bath students Joe Evans and Tom Toolis finished second and third respectively in Group A, while Joe Choong also placed in the top three in Group B.
Double Olympian Nick Woodbridge, making his first World Cup appearance for two years after a hip injury, narrowly missed out on one of the eight automatic qualification places in Group B but his total of 1,198 was more than good enough to put him through on points.
Evans, pictured, made a solid start to the day, winning 20 of his fencing bouts for 229 points before producing the fastest swim in his group – 1:59.73.
He then completed the combined run/shoot in 11:10.69 to record 1,200 points overall, matching the total of group winner Simon Casse of France.
Just one point behind Casse and Evans was Toolis, who won 21 of his fencing bouts before clocking 2:04.93 in the pool and 11:03.01 in the run/shoot.
University of Bath mathematical sciences student Choong scored 1,207 points for third place in Group B. He started the day by winning 17 fencing bouts before recording the fourth-fastest times in both the swim and run/shoot – 2:01.94 and 10:43.42 respectively.
Woodbridge was well placed for automatic qualification after winning 19 of his fencing bouts and clocking 1:59.98 in the swimming, the second quickest time in Group B.
He was unsurprisingly a little rusty in the run/shoot and lost ground with a time of 11:12.17, which put him tenth overall in the group. However, he had comfortably done enough to progress through points qualification.
That means that Pentathlon GB will have six representatives in the finals in Rome, with Freyja Prentice and Kate French having progressed through the women's qualifiers on Wednesday. Their final takes place on Friday.
The Rome World Cup is the latest major competition in a big year for Pentathlon GB, which includes the start of the Rio 2016 Olympic Games qualification period.
A key event on the road to Rio will be the Modern Pentathlon European Championships, taking place at the University of Bath – the home of Pentathlon GB – from August 18-23.
Tickets are now on sale for the event – visit www.pentathlongb.org/euros2015 for more information.