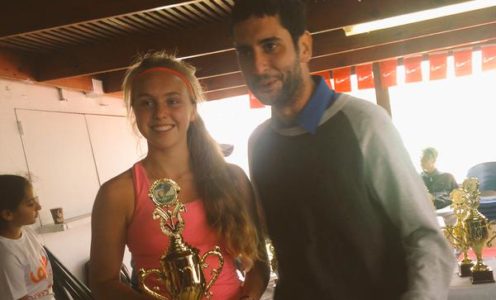 Team Bath MCTA-Tennis ace Eden Richardson claimed her second tournament success in as many weeks when she won the Messika Open ladies singles title in Israel.
The 16-year-old – fresh from her triumph at the Malta ITF U18 World Ranking Tournament – was in dominant form throughout the hard-court competition in Bat Yam.
That was summed up when she dropped just five games in the latter stages of the tournament, beating Anna Kubareva of Belarus 6-0 6-2 in the semi-finals and Israel's Shelly Krolitzky 6-2 6-1 in the final.
Richardson also overcame two other home players en route to the title, beating Keren Rozen 6-1 6-4 and Maya Tahan 6-4 6-3.
She only dropped one set during the week, in the second round against Russia's Anastasia Abramyan, before battling back to win 4-6 7-6(7) 6-2.
It had been a similar story the previous week in Malta, where Richardson justified her status as number one seed by breezing to a 6-1 6-3 victory over number two seed Veronika Erjavec of Slovenia in the final.
She started her campaign by beating Ireland's Annie McCullough without losing a game. She then overcame Romania's Sofia Besukladova 6-3 6-2, Italy's Rosanna Maffei 7-6(4) 6-2 and Helena Jansen Figueras of Spain 6-2 7-6(4).
Her only minor scare came in the semi-finals where she lost the second set to Romania's Evelyne Tiron before wrapping up a 6-2 2-6 6-1 victory.
Richardson also reached the women's doubles final in both Malta and Israel, with fellow Brit Joely Lomas and Israel's May Khimi respectively, but narrowly lost out in third-set tie-breaks.
Team Bath MCTA Director of Tennis Barry Scollo said: "Eden had a fantastic Easter period, recording some really good wins along the way, and this gives her a great foundation to build on during the summer.
"She has been working very hard during the winter on the physical side of her game, her quickness and footwork, so I was not surprised to see her do so well."
Richardson's success capped an excellent fortnight for Team Bath MCTA Tennis players at home and abroad.
Anna Smith and Jocelyn Rae – who formed the women's doubles partnership for Great Britain in the recent Federation Cup match in Hungary – continued their challenge for French Open qualification by winning the $50,000 Croissy-Beaubourg tournament in France.
Eleven-year-old Amelia Bissett did well in two national Grade 2 events, reaching the semi-final in Sutton and final in Nottingham, and has now earned a wildcard into Tennis Europe events at under-14 level.
"Amelia will now get to test herself against older players, which will be a good experience for her," Scollo added.
"We had a number of other semi-finalists, finalists and doubles winners over Easter, so it has been really pleasing. The players and coaches have done fantastically well."