Are you a keen tennis ace but don't have anyone to play against? Or are you looking for someone to go running or cycling with?
Then search no longer as a new app which allows people to find 'sports buddies' in the local area is being officially launched at the University of Bath this week.
Spuddy gives registered users the chance to find people of similar experience and ability across a range of sports, then invite to them to participate at local venues – including the Sports Training Village and Founders Hall.
It is now available to download from the App Store and is the brainchild of University of Bath International Management and Modern Languages students Dominic Stevens and Max Pilgrim.
Stevens explained: "Max is a keen squash player but had a knee injury when he first arrived at Bath.
"When he was fit again, he didn't really know anyone to play so we thought there must be some way of finding a playing partner locally.
"The only thing we could find was a website in the US where you had to pay to effectively place an advert, so we thought why not create an app to find sports buddies?
"We designed one and entered it into the University of Bath Business Plan competition in November 2012, where we had to pitch to [auditors] Deloitte UK and the university's finance director.
"We were fortunate enough to win that and then secured investment to develop the app, which was approved by Apple last week."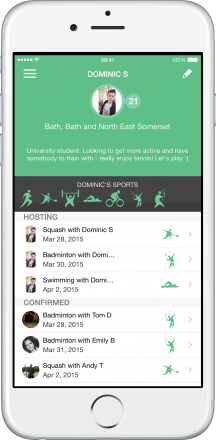 Users connect to Spuddy through their Facebook profile, then choose which activities they are interested in. Initially there are seven – badminton, cycling, gym, running, squash, swimming and tennis ­– with more sports to be added soon.
After selecting their ability, from novice through to expert, users can tap on each sport to find out who else of a similar standard is looking for a playing partner in the local area.
An invitation can then be sent to meet a certain time and date at a list of local venues, including the Sports Training Village and Founders Hall. The recipient gets a push notification on their phone, which they can accept or decline.
It is a free service and is being tested in Bath for the first few weeks before being rolled out nationally. There are plans to develop an Android app in the near future.
Spuddy will receive its official launch at the University of Bath on Tuesday, where the app mascot – a giant potato – will be offering people the chance to try out mini tennis, badminton, table tennis and volleyball on The Parade throughout the day.
There will also be a social media competition through Students' Union Sport to win one year's gym membership.
For more information, visit www.spuddyapp.com or www.facebook.com/spuddyapp, or follow @spuddyapp on Twitter.