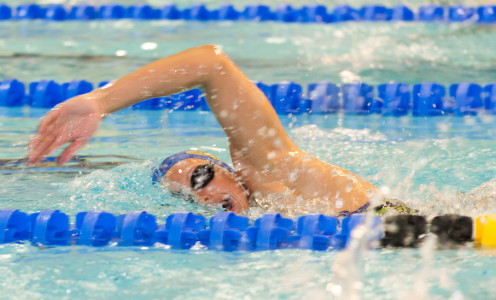 Siobhan-Marie O'Connor, Jazz Carlin and Lizzie Simmonds completed a hat-trick of gold medals for University of Bath-based swimmers at the British Championships on Thursday.
They were the second titles of the week for National Performance Centre Bath duo O'Connor and Carlin, while University of Bath student Jay Lelliott was also back on the podium.
O'Connor was the class act in the 200m individual medley, finishing three seconds clear of the field in a World Championship qualifying time of 2:09.51.
"It was a challenge but I am just very happy to make the team and hopefully I can now build and improve a bit for the summer," said the 19-year-old, who won 100m freestyle gold on Tuesday.
"That last 50m was really tough. I didn't feel great but I am happy with that time, I was just aiming to go under 2:10.
"Ideally it would have been nice to go under my PB but you are not always at your very best and getting the time was the main thing."
Carlin – who has already qualified for the World Championships in the 400m freestyle – was just three-tenths of a second shy of a second qualifying time over 800m.
"It's a tough event," said Carlin, whose winning time was 8:21.58. "I felt quite heavy and I didn't really feel like I got into my stroke tonight but obviously that's the time I have come away with.
"It's back to Bath to work hard with [coach] Dave McNulty but I still have the 200m freestyle on Saturday.  Siobhan-Marie is quite far ahead in that event but I will try and keep her on her toes there and hopefully we can push each other to a fast time."
Completing the golden hat-trick for the National Performance Centre swimmers was Simmonds, who had an excellent turn to thank for her narrow victory in an exciting 100m backstroke final.
"It was all about the race tonight," said Simmonds, who clocked 1:00.03 to beat Lauren Quigley by 13-hundredths of a second.
"Obviously it would have been nice to have got that qualifying time but it's done a lot for my confidence to take the gold.
"I have a day off and can then prepare for the 200m backstroke on Saturday. The 100 is always a bit of a bonus for me and I would have liked to have gone under the 60-second mark but it was all about sticking to my race plan against a really strong field."
University of Bath Sports Performance student Lelliott followed up Wednesday's 200m butterfly silver with bronze in the 1,500m freestyle in a time of 15:09.51.
"I can't complain," said the 20-year-old who is coached by Mark Skimming and is a Santander Sports Scholar at the university.
"To get the silver in the 200m fly was fantastic and to get two medals is better than I have ever done, so I'm happy."
The championships continue at the London Aquatics Centre on Friday and conclude on Saturday.