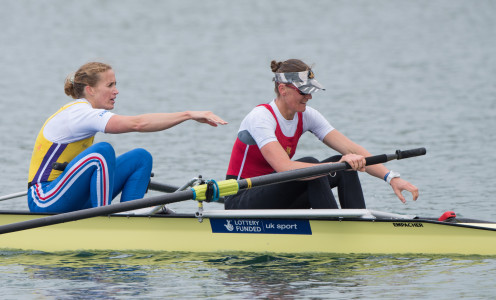 It was an encouraging weekend for University of Bath-based rowers past and present at the GB Rowing Team Trials.
Helen Glover and Heather Stanning dominated the women's pair once again – and warned their rivals they are getting better all the time.
The reigning Olympic and World champions were in imperious form all weekend at Caversham, making the light of the windy conditions to win the time-trial, semi-finals and final by a comfortable distance.
Glover said: "I think we are very much on course and constantly improving. We obviously have to earn our place in the boat first but we are aiming for the World and Olympic titles.
"We not only have great respect for each other as athletes but we are great friends on and off the water. I can genuinely say I want to win these races as much for Heather as for myself. We know how much we put into every session – it isn't just our day job, it's our passion."
University of Bath graduate Stanning added: "We have developed as a pair. Individually we have become better athletes over the years and we have grown together as a combination."
Vicky Thornley, who started her career alongside Glover on the GB Rowing Team Start programme at the University of Bath, beat four-time Olympic medalist Katherine Grainger to the women's single scull honours after a classy performance in the final.
"I was really pleased – that race went exactly to plan and it was definitely my best rowing of the weekend," Thornley said.
"I just wanted to go out, not worry too much about what everyone else was doing and put myself in the best position to race well.
"I hope I'm in a good position for selection for the boats in the summer. It is an Olympic qualifying year, a really important year, and we are going to have to be fast to put ourselves in the medals and to qualify the boats."
University of Bath student Sam Courty continued her impressive progress by winning the B final with Emily Ford, making them the fastest U23 pairing.
"That was a good way to end the weekend, I'm really pleased with that," said Courty, who helped Britain win women's eight silver at last year's U23 World Championships.
"We progressively improved with each race. We kind of finished where we expected in the time trial, we got battered around a bit by the wind. We lost our focus a bit in the semi-final but we stuck to our race plan in the final and it paid off.
"I had a tough winter because I was injured but everything is back on track now and I am looking forward to a good summer."
Courty – who is shortlisted for the University of Bath Sports Personality of the Year honour at this week's Blues Awards – was one of three members of the current Start programme in action over the weekend.
Frazier Christie and Alex Wilding, both coached by Dan Harris, were among the many rowers who struggled in the blustery conditions for Saturday's time trials and missed out on a place in the A/B semi-finals.
Christie bounced back to win his C/D semi but placed third in the C final, while Wilding was runner-up in the D final. That put them fourth and seventh respectively in the U23 rankings.
"It didn't go the way I wanted, to be honest," said Christie, who is hoping to be part of the World U23 Championship squad this year.
"I came here aiming to make the top 12 and my main goal was to be the top U23, other than Jack Beaumont who is training with the seniors.
"The conditions were difficult for the time trial, though, and I finished 15th but my semi went well. I was last at halfway and came through to win, which was quite encouraging, but I was beaten by two other U23s in the final.
"It's tough because it has been a really good start to the season, I have performed well all the way leading up to this. When it counts it hasn't really come off but I'll still end up seat racing next week, so I've just got to put this out of my mind.
"This is some of the best racing experience we get, it is awesome, so it will definitely help but it would have been nice to come out with a better result."
Bradford on Avon rower Michael Lawrence, who races for Quintin BC in London, withdrew from the D final.
Sir David Tanner, GB Rowing Team Performance Director, said: "We have had some outstanding racing today with some fantastic tight finishes and whilst most of our top guns have performed to their best we have seen some young talent come through as well.
"The attitude and discipline of our rowers this weekend has been exceptional and this will be a good base for us to form our boats for the European Championships over the next few weeks".
That squad will be announced on May 13.
The full results from the Trials weekend are available at www.gbrowingteam.org.uk
PICTURE: Peter Spurrier / Intersport-images.com