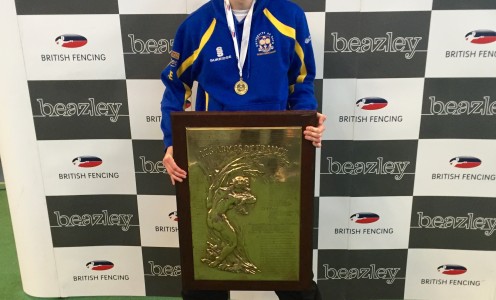 University of Bath student Tom Edwards is celebrating the biggest success of his fencing career after striking gold at the Beazley British Championships.
The Sport & Exercise Science student, who captains the University of Bath Fencing Team, was ranked 20th going into the epee competition at the English Institute of Sport in Sheffield on Saturday.
However, he won all of his first-round fights and then progressed through the elimination stages, beating number-one seed Tomas Curran-Jones en route to the quarter-finals.
Edwards edged a bruising encounter against Gareth Thomas 10-9, scoring the decisive sudden-death point in overtime, before defeating the experienced Greg Allen to set up a final showdown with 16-year-old rising star Owen Jordan.
A nervy encounter looked to be going Jordan's way when he led 14-13 but Edwards – winner of two Commonwealth medals for Wales earlier in the season – dug deep to win the last two points and a first British title.
"The intention was to leave Sheffield with both an individual and a team medal but I honestly did not expect to leave as national champion," said Edwards, who won team bronze for Bath Sword Club with Chris Hay, a Biology student at the University of Bath, and Philip Marsh.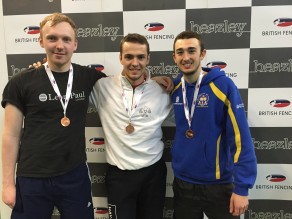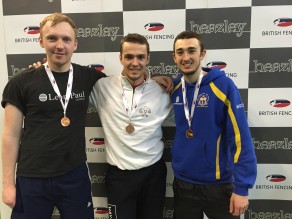 "I entered the competition in strong form, having won the Birmingham International two weeks before.
"Overall I put in a solid performance over the weekend and got great results out of it. This has motivated me to keep training and strive for more success at future large events."
Stuart Scott – who is studying Biochemical Engineering in Bath and, like Edwards and Hay, is supported by a Santander Sports Scholarship – was 16th in the men's sabre.
Great Britain internationals Jo Hutchison and Sophie Williams, both of whom started their career at Bath Sword Club, won gold and bronze respectively in the women's sabre.
And University of Bath Mathematics and Computing graduate Natalia Sheppard bagged bronze in the women's foil.
Bath Sword Club train at Founders Hall and in the fencing salle at the University of Bath.