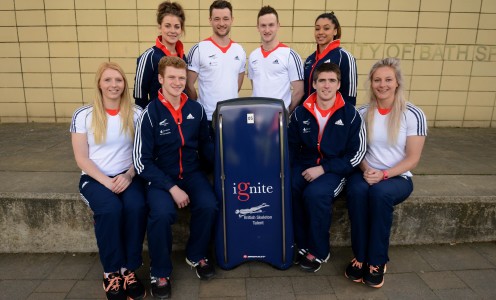 Eight sliders with dreams of emulating Olympic champions Amy Williams and Lizzy Yarnold have been named in British Skeleton's new talent squad.
University of Bath student Madelaine Smith and Sport & Exercise Science graduate Kim Murray are among the elite group who successfully came through a Power2Podium talent search which attracted more than 1,000 applicants.
Also in the squad – who have recently returned from their first six weeks of ice training in Norway, Austria and Germany – are Brogan Crowley, Eleanor Furneaux, Chris Gray, Craig Thompson, Tim Hull and Marcus Wyatt.
Smith, in the second year of her Sports Performance degree, said the last 12 months had been "a rollercoaster".
"It is a year ago this week that we had our first testing on the indoor athletics track at the Sports Training Village," said the 20-year-old, who was a 100m hurdler before making the switch to skeleton.
"It was a long process to get selected but we have come such a long way and it was such an amazing journey to be on.
"I would never have thought in a million years I would end up doing skeleton. It just happened by chance.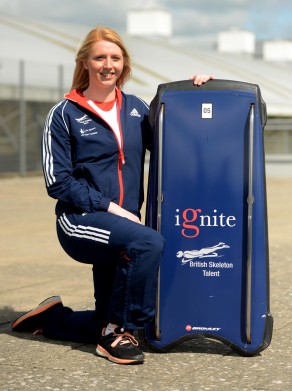 "My friend Lloyd Wallace is a GB aerial skier and told me he had seen something online about the skeleton trials and thought I would be really good at it.
"I said 'don't be so stupid, I don't even know what that is really' but my boyfriend Olly Biddulph is a driver with British Bobsleigh and also said to just give it a go.
"I filled in the online application form and didn't really think about it until I got the letter back inviting me to the first phase of trials. I thought I would give it a go and then found myself really enjoying it."
The University of Bath is the home of British Skeleton, as well as several other national sporting bodies, and Smith said she has been inspired by being part of that multi-sport environment.
"I had a couple of university choices but once I came here I knew straight away this was where I wanted to be," she added.
"The facilities at the Sports Training Village are just amazing. I am very lucky to have that as a student anyway but getting to use them as a full-time athlete is a massive help.
"You definitely bounce off the people who are training around you – you see the elite athletes putting in the work and doing well, which makes you want to strive and do better yourself.
"The lecturers on my course are very supportive and understanding. It is designed for full-time athletes, so they will extend deadlines to provide extra time to do my work when I am away. It has been really beneficial to have that extra support."
Also inspired by the Sports Training Village was Furneaux, who is a Contemporary Arts Practice student at Bath Spa University.
"I was a sailor until I was 14," she explained. "I was in the Olympic Development Squad and sailed catamarans with my older brother Angus but it got to the stage where he wanted to focus more on his schoolwork.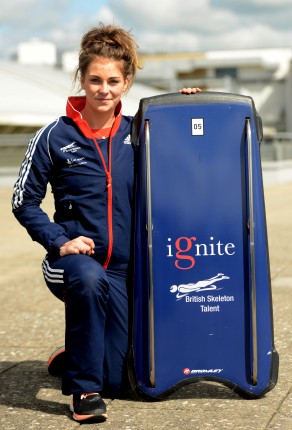 "When I moved to Bath I decided to start training in the gym here and noticed all these people walking around in blue British Skeleton tops.
"I started looking into winter sports a bit more and actually tried my hand at bobsleigh first. I went along having never done sprinting of any kind and found out it wasn't actually trials for the talent squad, it was for the Olympic squad. Surprisingly I didn't make the cut but it made me realise I wanted to get back into competitive sport.
"Then my friend Joey Walton, who is with British Weightlifting, suggested I might be good at skeleton and that's when I thought, 'of course, that's what all those people in the blue tops do!'.
"I went to a trial in October 2014 – almost a pre-trial for Power 2 Podium – and there were only six of us there. Then the Olympics happened and when I returned for the actual trial in April there were 1,000 people. It was so much more pressure but I knew I wanted to do it and now I get to wear the blue top as well!"
Training camps during the summer months will take place on the state-of-the-art push-track at the University of Bath but Furneaux said her first experience on ice had been a real rush.
"It was absolutely incredible, like nothing I have ever done before," she beamed. "The first time I stood at the top of the track, I had never been so nervous in my life. I was shaking.
"Then I got to the bottom and started crying – but in a good way because it was so exhilarating. Our team manager was filming us at the bottom of the run and I was crying so much she thought I was injured. I had to tell her 'I'm fine, I'm just really happy!'."
The Power2Podium talent search was launched by British Skeleton in conjunction with UK Sport after Yarnold's gold-medal triumph at the Sochi 2014 Winter Olympics.
Yarnold, along with fellow international medalists Laura Deas and Rose McGrandle, had come through a similar UK Sport talent search called Girls4Gold in 2008.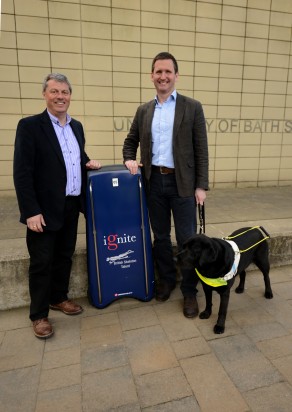 And Lord Holmes of Richmond – director of insight and innovation with Ignite, sponsors of British Skeleton – said there was much to admire and learn from the sport's success on and off the ice.
"Skeleton has so many positive messages about possibilities," said Lord Holmes, whose own stellar sporting career saw him become Britain's most successful Paralympic swimmer.
"It is a sport that you could legitimately say that as Britons we shouldn't necessarily be any good at. It's not in our culture, we're not a winter sport country, but skeleton has shown that if you get the programme and people right, if you get that talent pathway right, then you can deliver phenomenal success.
"That is powerful in the sporting community but to also take that out into the business community, to local authorities, to the NHS, and show what it is possible to achieve is a phenomenal message."
Ignite co-founder Mark Smith added: "When you look at the programme and see how fast the youngsters who come into it progress, you appreciate what a structured way British Skeleton have of working and it is producing results.
"Corporations sometimes get stuck in the way they think and become habitual, so they need something from outside to act as a stimulus to make them think differently.
"Sport is something everyone can relate to but if it is a successful sport and they can recognise the names and faces then it is even better."
Lord Holmes added: "It's brilliant to be back here in Bath as well – I've been coming here for the last 18 years since the Sports Training Village opened and you can't help but feel that the environment here says 'we are about sport and excellence within sport'.
"It's a fantastic environment for these guys to be based in and it's great to be able to support them along their journey to get on the World Class squad, with success at the 2018 and 2022 Games the ultimate goal."