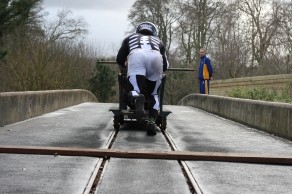 As part of Community Activity Day at the Sports Training Village on Saturday, June 20, Team Bath are delighted to invite attending members of the public to see what it's like to compete as a Winter Olympian on our push-start bobsleigh track.
Recently refurbished to feature a sophisticated braking mechanism, the track can be used under supervision by users aged 18 or older across three sessions spread throughout the day.
The track is the only one of its kind in the country and will be available at the following times:
Session 1: 1.30-2pm
Session2: 2-2.30pm
Session 3: 2.30-3pm
Please note that availability is limited and users can access the track on a first-come first-served basis on the day or by signing up. To sign up, please see our bobsleigh registration form.