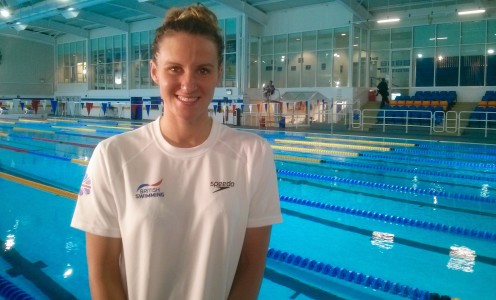 University of Bath-based swimmer Jazz Carlin missed out on a medal by just four-tenths of a second on the opening night of the FINA World Championships in Kazan, Russia.
Carlin, coached by Dave McNulty at the British Swimming National Centre Bath, clocked the fastest last 100m of anyone in the field but it wasn't quite enough to snatch a podium place in Sunday's 400m freestyle final.
"I gave it my best shot," said Carlin, who also finished fourth in the equivalent race at the 2013 World Championships.
"When you get to a World Championship, you're really racing the best in the world. That was my best today and to come fourth is really disappointing.
"I would have loved to be on the podium but that's the way it goes sometimes.
"I've got a few days off now so it will be nice to get a few days rest and move on ready for the 800m."
Carlin touched the wall in 4:03.74 as bronze went to Australia's Jessica Ashwood in 4:03.34. The USA's Katie Ledecky (3:59.13) won gold ahead of the Netherlands' Sharon Van Rouwendaal (4:03.02).
Siobhan-Marie O'Connor has her sights set on winning a maiden World Championships medal on Monday after dominating her 200m individual medley semi-final.
The 19-year old touched more than 1.5 seconds clear of the field in her semi on Sunday, her time of 2:08.45 being the second-fastest overall.
Sports Performance graduate Calum Jarvis was part of the British men's 4x100m freestyle relay team which narrowly missed out on qualification for Sunday's final.
He returned to the pool on Monday morning in the 200m freestyle heats, posting the fifth-fastest qualifying time of 1:46.61.
Both Chris Walker-Hebborn and Lizzie Simmonds eased through their respective 100m backstroke heats on Monday morning to qualify for the semi-finals.
Walker-Hebborn won his heat in 53.64, while Simmonds was third in her race in 1:00.38. Both will be back in the pool on Monday evening.
Seven University of Bath-based swimmers are competing in Kazan – read more about the team here.