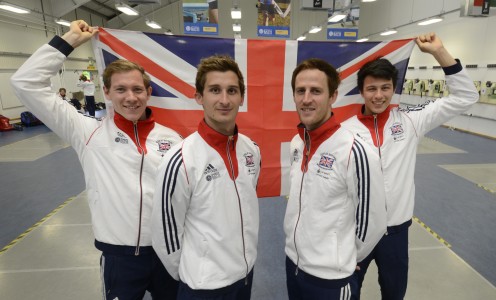 The Modern Pentathlon European Championships – a qualifying event for the Rio 2016 Olympic Games – are taking place at the University of Bath Sports Training Village all week.
It is the men's qualifying round on Thursday, with reigning Olympic champion David Svoboda of the Czech Republic among those seeking a place in Saturday's final. Pentathlon GB are represented by double Olympian Nick Woodbridge, former Dual Career athlete Jamie Cooke and University of Bath students Joe Choong and Tom Toolis.
This page will be updated throughout the day with results, reaction and pictures. Tickets are still available for this week, starting at just £1 for under-18s and £6 for adults. Visit pentathlongb.org/euros2015 for details.
5.45pm: RUN/SHOOT – GROUP B: There will be three British men in Saturday's final after Jamie Cooke and University of Bath student Joe Choong finish second and tenth respectively in Group B.
Choong said: "It was good. I shot pretty well, I think I missed five shots overall and that's what kept me in it.
"Swimming and running felt really good. I'm disappointed with my fencing, I think it's the worst senior fencing I've ever had, but I can improve in the final.
"I've got all my family, my grandparents are here. It's a big support. You can here them coming along that home straight. You think 'I've got to do this for them'."
Lithuania's Justinas Kinderis takes the win and Italy's Fabio Poddighe, France's Valentin Belaud and Russia's Aleksander Lesun complete the top five.
Belaud said: "My shooting was good and I feel my running is getting easier. I've finished in a good position overall moving from 9th to 5th, so I am really happy with my performance today."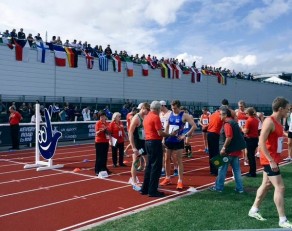 There was good support once again for the athletes in the combined event
4.30pm: RUN/SHOOT – GROUP A: London 2012 bronze-medallist Adam Marosi produces a fine run/shoot to move up from sixth to take victory in Group A. Bulgaria's Dimitar Krastanov, who started 17th, is runner-up and Russia's Maksim Kustov is third.
Krastanov said: "I am happy with my position. This is the last competition for the season and it is amazing that I am in the final. My aim is to try to qualify for Rio."
Regarding the competition and facilities, he added: "It's awesome, amazing. The great thing here is that everything is in one place."
Ireland's Arthur Lanigan-O'Keeffe, who finishes fourth, said: "I'm very happy with my performance. I knew I had a job to do and I came out and put in a solid day. I made a heavy start of the fencing but it came well in the end. I was really happy with my swim which meant I came into the combined in 9th. My shooting was a bit shakey but I'm pleased I moved up into 4th and I'm looking forward to the final."
Tom Toolis was the top Brit, finishing sixth and progressing to Saturday's final. The University of Bath student said: "Qualifying is that one step closer to getting in the top eight in the final and gaining an Olympic spot, so I'm chuffed to bits.
"The support is great. You talk about the home advantage and you really build up a fire in your belly, you don't want to let them down. I definitely increased my performance in the fence and the swim and I just cruised that last 800m but it was enough to get into the final."
There was disappointment for Nick Woodbridge, who struggled for fitness in the combined after an impressive fence and swim and came home in 26th.
Jamie Cooke will start the Group B combined at 5.30pm with a two-second lead over Russia's Aleksander Lesun. Joe Choong is 14th, with the top 12 guaranteed a place in Saturday's final.
Nick Woodbridge touches the wall first in his heat at the European Championships
2.30pm: SWIMMING – GROUP A The success continued in the home pool for Pentathlon GB's athletes as Tom Toolis and Nick Woodbridge both won their heats. The latter's time of 1:58.95 makes him one of only three swimmers to go under two minutes – the others being team-mates Jamie Cooke and Joe Choong in Group A. Toolis's time of 2:02.58 is a season's best. He will start fourth in the combined, with Woodbridge second.
Russia's Makis Kustov leads going into the run/shoot after setting the third fastest swim time of 2:00.97, with Poland's Michal Gralewski second in the pool in 2:00.43.
Germany's Fabian Liebig (2:07.23), tenth going into the combined, said: "The swim was OK. I am OK at fencing so I could decide to give 99% in the swim. Also, the pool is great."
Compatriot Stefan Kollner (2:11.33) added: "The swim went quite well, I got a season's best so that was OK. I hope to reach the finals so we will see."
Italy's Riccarolo de Luca (2:07.83) said: "For me the swim was good. I got my PB. The pool was very fast."
The sports hall has been transformed into a fencing salle

1.30pm: FENCING – GROUP A Greece's Alexandros Pantazidis was delighted after finished joint top of the standing with 20 wins from his 30 bouts. "That is one of my best fencing performances ever so I am very pleased. Hopefully it will help me through to the final. The facilities are perfect and I am really enjoying it here."

Russia's Maksim Kustov also wins 20 bouts, while Tom Toolis was fifth with 18 wins. Nick Woodbridge picked up a ten-point penalty early on but recovered to finish ninth overall with 19 wins, earning him 226 points.

12pm: SWIMMING – GROUP B A stunning start to the day for Pentathlon GB's Jamie Cooke and Joe Choong as they post the two quickest times in the London 2012 Legacy Pool – 1:56.28 and 1:57.77 respectively. They are the only two times inside two minutes, with Italy's Fabio Poddighe third-fastest in 2:02.22.

Germany's Matthias Sandten was ninth in 2:06.14. He said: "The water was good but the time was not as fast as I had wished. It is important to keep focused."

Compatriot Patrick Dogue, 14th in 2:08.49, added: "The swim was OK but the time was not good. It is important to fence well but the combined is where I will make the time good."

Ireland's Tom O'Brien picked up 273 points with his time of 2:22.55. Looking ahead to the fencing at 2pm, he said: "I'm new to fencing so I'm looking forward to it. It's a great venue and very relaxed, so that helps keep me relaxed."