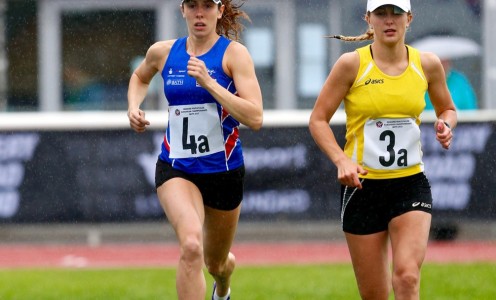 The Modern Pentathlon European Championships – a qualifying event for the Rio 2016 Olympic Games – are taking place at the University of Bath Sports Training Village all week. Entry is free on Friday.
It is the women's qualifying round on Friday, with reigning Olympic champion Laura Asadauskaite of Lithuania and World Champion Lena Schoneborn among those seeking a place in Sunday's final. Pentathlon GB are represented by London 2012 silver-medallist Samantha Murray, fellow University of Bath graduates Kate French and Freyja Prentice, and newly-crowned World Junior Champion Francesca Summers.
This page will be updated throughout the day with results, reaction and pictures. Tickets are still available for this week, starting at just £1 for under-18s and £6 for adults. Visit pentathlongb.org/euros2015 for details.
4.30pm: RUN/SHOOT – GROUP A Samantha Murray and Francesca Summers both progress to Sunday's final, finishing ninth and 11th overall. Leading the way are Hungary's Tamara Alekszejev and World Champion Lena Schoneborn, with London 2012 gold-medallist Laura Asadauskaite third.
4pm: FENCING – GROUP B France's Elodie Clouvel will take a 33-second lead into the run/shoot after backing up her impressive swim with 20 wins in the fencing, a total only matched by Katsiaryna Arol of Belarus. Russia's Donata Rimsaite wins 18 of her bouts to start the combined event in fifth. Kate French and Frejya Prentice both win 16 bouts to sit eighth and tenth overall respectively, around a minute behind the leader. The run/shoot starts at 5.30pm.
2.30pm: SWIMMING – GROUP A Samantha Murray sets the fastest time in the London 2012 Legacy Pool, 2:10.19, to move up to ninth in the overall standings ahead of the run/shoot at 4.30pm. Lithuania's Ieva Serapinaite posts the third-quickest time of 2:15.45 to take a seven-second lead over Hungary's Tamara Alekszejev into the combined event. Francesca Summers is in the 12th and final qualifying position at the moment after finishing third in her heat in 2:22.94.
1pm: FENCING – GROUP A Latvia's Elena Rublevska, a former World Cup Final bronze-medallist, leads the way after 20 wins and just six defeats in the sports hall. Laura Asadauskaite is third on 18 wins, just one behind Hungary's Tamara Alekszejev. Francesca Summers is the top Brit, 12th with 14 wins, while Samantha Murray is 21st after 11 wins.
12pm: SWIMMING – GROUP B France's Elodie Clouvel – third in the World Cup Final in London four years ago – is fastest in the London 2012 Legacy Pool in a time of 2:09.48 ahead of Russia's Gulnaz Gubaydullina and Hungary's Sarolta Kovacs. Kate French is fastest Brit, 12th in 2:19.06, and Frejya Prentice wins her heat in 2:22.79 to place 18th going into the afternoon's fencing.