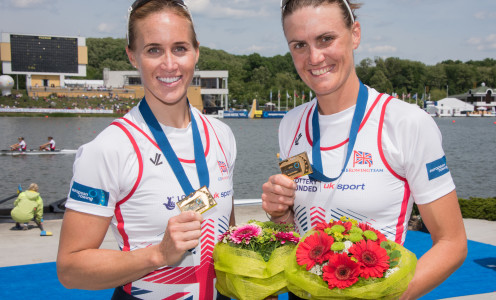 The talent identification programme which helped turn Helen Glover and Heather Stanning into Olympic, World and European rowing champions is staging trials at the University of Bath next week.
Both Glover and Stanning are graduates of the GB Rowing Team Start Programme based at the Sports Training Village and Minerva Bath Rowing Club.
Now Talent Development Coach Dan Harris is hoping to find the next generation of Olympic rowers when he hosts trials during the first week of October.
The evening trials will take place at the University of Bath but applicants do not need to be students.
No previous experience of rowing is necessary but potential athletes need to be aged between 14 and 22. Men must be at least 1.88m (6'2") tall and women 1.78m (5'10").
They will face endurance and strength tests to see if they've got what it takes to join the Start programme in Bath – one of 12 regional centres established by the GB Rowing Team.
It has been a successful year for the programme, with both Sam Courty and Frazier Christie being selected for the World U23 Championships in Bulgaria.
Courty, who graduated this summer in Sport & Exercise Science, was part of the British women's four that won bronze having won a silver medal with the women's eight 12 months earlier. A former equestrian rider, she successfully trialed for Start when she joined the University of Bath.
Economics graduate Christie made his international debut at this year's Championships in a men's quadruple scull crew coached by Harris.
Athletes on the Start programme have also enjoyed success during 2015 while representing both Minerva Bath Rowing Cub and the University of Bath Boat Club.
Anyone who would like to take part in the GB Rowing Team Start Programme trials should contact Dan Harris at dan.harris@gbrowingteam.org.uk
Picture of Helen Glover and Heather Stanning courtesy of Peter Spurrier/Intersport Images