World-renowned sports scientists and practitioners, including a former UK Athletics Performance Director and the current head coach of a team on course for Rio 2016 Olympic qualfication, will gather at the University of Bath later this month for a major Sports Performance Conference.
More than 200 students, athletes, coaches and researchers – from as far afield as Belgium and Brazil – have already signed up for the day-long event, which will look at the latest developments in physiology, nutrition, coaching education, psychology and talent spotting.
Taking place on Friday, January 22 from 8.30am-5pm, the Conference will feature insightful talks from five keynote speakers.
They include Dave Collins, a Professor of Coaching and Performance at the University of Central Lancashire who has worked with more than 60 Olympic and World medallists during his career and was Performance Director of UK Athletics from 2005-2008.
He will discuss applied research with Morph Bowes, a high-performance coach at the Sports Training Village in Bath from 2003-2009. He is now Head Coach of the Dutch women's beach volleyball team as they prepare for the Rio 2016 Olympic Games, having performed the same role with Team GB at London 2012.
First speaker at the Conference will be Professor Romain Meeusen, head of the Department of Human Physiology at the Vrije Universiteit Brussel in Belgium. He will talk about his research into the dangers of overreaching and overtraining in athletes.
There will also be a presentation on nutritional support from two experts in the field – Mike Gleeson, a Professor of Exercise Biochemistry at Loughborough University who wrote one of the first nutrition textbooks which current students still refer to, and Renee McGregor, a registered dietician and sports nutritionist formerly based at the Team Bath Physio & Sport Science Centre.
The Conference has been organised by individuals involved in the highly-successful Sports Performance course based within the University of Bath's Department for Health.
Project lead is Eva Piatrikova, a Sports Performance graduate who currently works as facilities sales and development administrator for Team Bath.
"The response we have had to the Conference since it was announced has been fantastic," she said.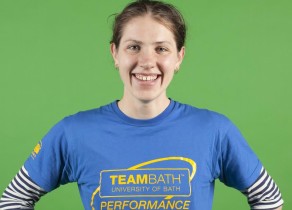 "We have managed to organise a world-class event that has not only attracted a high number of delegates but also multiple nationally and internationally recognised sponsors. It has also become endorsed by the largest multidisciplinary sports science and medicine organisations in the UK, BASES the British Association of Sport & Exercise Sciences (BASES) and British Association of Sports & Exercise Medicine (BASEM).
"We have delegates coming from all over the world to be involved and a number of Olympic medalists have also been invited to attend.
"Our speakers have expertise across a broad range of sports and are founders of research in their fields. I can't believe we have managed to bring all of them together for this event."
Also leading the project is Nicholas Willsmer, Director of Studies for the FdSc/BSc Sports Performance programme.
"I have been involved with the Sports Performance Programme as a Teaching Fellow at the University since 2005 and for last two years as a Director of Studies," he said.
"I have been privileged to work with students who continue to excel at the highest levels in their respective sports whilst studying for their Degrees in Sports Performance.
"The Sports Performance Conference is jointly funded by a University Teaching Development Fund and the Department for Health, and will provide an excellent opportunity to discuss some of the many factors that underpin sports performance from participation levels to elite.
"It is the culmination of a great deal of hard work by one of our graduates. Eva successfully organised a Keynote Guest Lecture series during her final year, which was achieved through the financial support of a Student Learning Association fund, and it was very well received by the Department.
"Subsequently we now have an opportunity to deliver a conference focused on sports performance in an Olympic year that also coincides with the University's 50th Anniversary.
"This is a great opportunity to promote the Sports Performance Programme, research in the field and contemporary research taking place in our Department for Health. I am very much looking forward to hosting the event."
The last remaining tickets for the Sports Performance Conference 2016, as well as more information about the event, are available by visiting www.sportsperfconf.co.uk/