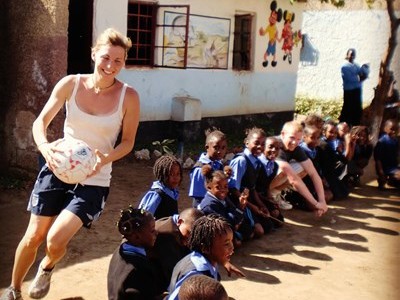 Eleven University of Bath staff members are putting on their running shoes to raise money for a sports development project in Africa by taking on the 2016 Vitality Bath Half Marathon.
All sponsorship money raised by the team on Sunday, March 13 will go towards funding the UK Sport IDEALS project in Zambia.
The University's Department of Sports Development has been involved in the project for the past ten years, with students spending six weeks in the African country working in schools and villages to deliver PE lessons, sporting competitions and health awareness workshops.
Past students to have taken part include Bristol Academy footballer Grace McCatty (pictured), who described the experience as "six weeks that genuinely changed my life".
This year's participants are busy raising the money needed to fund their travel and are undertaking a 7,220-mile static cycle at the University, matching the distance from Bath to Zambian capital Lusaka.
Staff are also supporting their efforts by signing up for the Bath Half, which sees more than 13,000 runners take to the city's streets.
The team consists of Catherine Evans (Facilities Sales & Development Manager), Rich Turner (Senior Membership Sales Consultant), Ben Coombs (Track Controller), Rob Whalley (Sports Duty Manager), James Lambdon (Lifestyle & Sports Psychology), Chris Burling (Sports Training & Development Manager), Che Wilson (Head of Football), Zoe Ashman (3:Thirty Workforce Development Officer), Mehul Karia and Steph Courty (Sports Science Placement Students), and Jody Paul (Head Hockey Coach).
To sponsor the team, visit https://mydonate.bt.com/charities/universityofbathteambathhalf