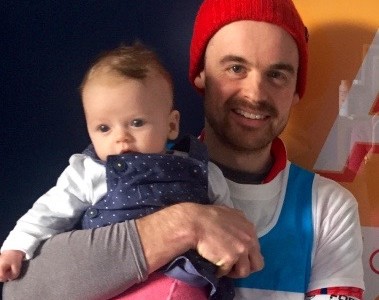 University of Bath strength and conditioning coach Bob Smith will run his 11th half-marathon of the year on Sunday when he takes part in the 2016 Vitality Bath Half.
It is part of an inspirational fundraising effort by Bob, Senior S&C coach with the Team Bath MCTA International High Performance Tennis Academy, which will see him run a half-marathon every week during 2016 – nearly 700 miles in total.
He set himself the challenge to raise money for the Wallace & Gromit Grand Appeal at Bristol Children's Hospital, who provided care for his daughter Autumn when she was taken seriously ill in November aged just four weeks.
She was rushed to the hospital's Paediatric Intensive Care Unit (PICU) with a life-threatening heart condition called Supraventricular Tachycardia.
For 48 hours, Bob and his partner Katie waited anxiously as doctors placed Autumn under sedation, lowering her body temperature and ventilating her through a tube to take the pressure off her heart.
After being gradually brought off ventilation Autumn spent time recovering on the High Dependency Unit before finally being allowed home five days later. She will require more treatment in the future but is now a happy and healthy five-month-old baby.
"I can't describe the gratitude and admiration that I have for every person that Katie and I came across that night in the Bristol Children's Hospital," said Bob.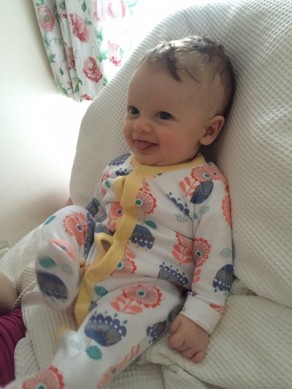 "We were both overwhelmed by the care, compassion, generosity and expertise provided to our little daughter by every member of staff whom we came in contact with.
"I watched in awe as specialists rode an emergency and managed the situation with such a depth of expertise and experience. The nurses and doctors cared for Katie and I with the same compassion as they did Autumn, and I was completely humbled by the whole experience. I still am.
"On many occasions since the event I've searched for ways in which we can pay back the care that we received from the Bristol Children's Hospital. My goal is to fundraise every penny of the cost of Autumn's treatment for those six days."
Bob estimates that to be around £8,000 and is already nearly halfway towards reaching that total.
To support Bob's marathon efforts, you can make a donation at www.justgiving.com/bobsm100 or text BOBS61 £1 / £5 / £10 to 70070.
You can follow Bob's progress during the year on his blog or via his Twitter account.