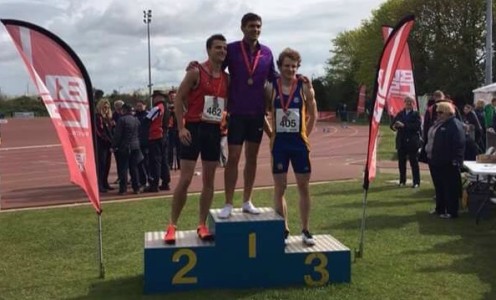 Students at the University of Bath won ten medals – six of them gold – during a fantastic weekend at the BUCS [British Universities & Colleges Sport] Outdoor Athletics Championships.
There was double delight in the 400m as Cameron Chalmers and Olivia Caesar won the men's and women's titles respectively.
Chalmers also helped the University to victory in the men's 4x400m relay alongside Jacob Paul and Jack Houghton, who were both on the podium in the 400m hurdles (pictured left).
Trendell Sports Scholar Jenny Nesbitt transferred her excellent cross-country form onto the track to emphatically win the women's 5,000m and Philippa Rogan struck gold in the women's high jump.
Bethany Close was runner-up in the 100m hurdles and there were medals for both the women's 4x100m and 4x400m relay teams at the Bedford International Stadium.
Sports Performance student Chalmers followed up his 400m victory at this season's BUCS Nationals by taking gold again in 47.07. He had earlier dipped below 47 seconds for the first time when he clocked 46.88 in the semi-finals.
Caesar, who is studying Sports & Exercise Science, was equally as impressive in the women's final as she raced to victory in 53.45 – a 2.5-second improvement on her personal best from last summer.
Both Chalmers and Caesar are coached by head track & field coach Colin Bovell, as are Paul – joint coached by Marina Armstrong – and Houghton who once again produced strong performances in the 400m hurdles.
Sports & Exercise Science student Paul, a Trendell Sports Scholar, won gold in 51.22 and Houghton, a Santander Sports Scholar who studies Biology, claimed bronze in 52.25.
Rogan, who has represented Ireland at the World Youth Championships, improved on her bronze at the BUCS Nationals by clearing 1.77m to win high jump gold.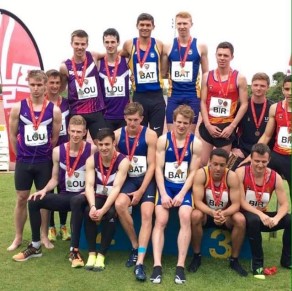 Sports & Social Sciences student Nesbitt continued her excellent season by finishing 31 seconds clear of the field in the women's 5,000m in a winning time of 16:28.70.
There was a second successive 100m hurdles silver at the BUCS Outdoors for Sport & Exercise Science student Close, who clocked 14.00 exactly.
She also reached the 200m final and was part of the women's 4x100m relay team – along with Caesar, Kaeshelle Cooke and Rachel Bell – that won bronze in 47.13.
Chalmers, Paul and Houghton were joined by Ronnie Young in the men's 4x400m relay team that clocked 3:13.60 to pip Loughborough to gold in an exciting final.
Caesar teamed up with Amy Jaramazovic, Rachel Dennison and Anna Clark to win her third medal of the weekend, silver in the women's 4x400m in 3:55.20.