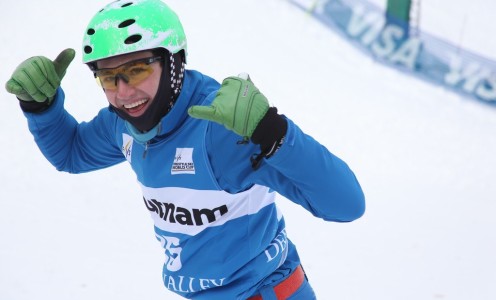 University of Bath sporting scholar Lloyd Wallace has been shortlisted for an emerging talent award by the Ski Club of Great Britain.
The Evie Pinching Award celebrates the next generation of young, up-and-coming snow sports athletes and is named after a British alpine skier who won the women's downhill and combined events at the 1936 World Championships in Innsbruck.
Sport Performance student Wallace, supported by a Santander Sports Scholarship and the University's Dual Career programme, competes in freestyle aerial skiing and this year set massive personal bests by landing his first triple-twisting somersaults on snow.
He won Britain's first-ever Europa Cup gold medal in 2015, as well as bronze at the World Junior Championships.
The winner of the Evie Pinching Award, who will receive a one-off bursary of £1,000 to help with training and competing, is decided by public vote.
Also shortlisted are alpine skier Yasmin Cooper, snowboarder Matt McCormick and visually-impaired skiers Menna Fitzpatrick and Millie Knight.
People can show their support for Wallace by visiting www.skiclub.co.uk/eviepinchingaward – voting closes at 11.59pm on Thursday, May 26.