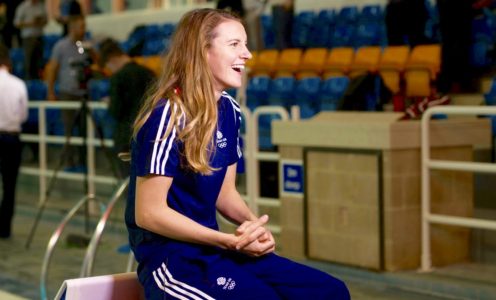 Swimmer Jazz Carlin says her move to the University of Bath was a key factor in helping her go from London 2012 heartbreak to Rio 2016 delight.
Commonwealth champion and World medallist Carlin is finally set to make her long-awaited Olympic debut this summer after being officially selected for Team GB.
She is one of four British Swimming National Centre Bath swimmers in the squad – along with Siobhan-Marie O'Connor, Chris Walker-Hebborn and Andrew Willis – and feels she is improving all the time since moving to the Sports Training Village in November 2014.
"Moving to Bath was always going to be a big change but I wanted to work with Dave McNulty, I think he is a great coach," said Carlin, who is racing at the LEN European Championships next week.
"The bond that has grown between us during the past 18 months has been amazing and I'm confident in all that he does. He will be by my side in Rio and that's only going to help me."
Carlin is a strong contender for an Olympic medal but admits she considered giving up the sport after failing to qualify for London 2012 following debilitating bouts of glandular fever and tonsillitis.
"I didn't know whether I had enough energy to carry on," said the 25-year-old. "It's not just a physical battle, getting up early every day and doing all that training, it's a mental battle too.
"My confidence was so low, I was so broken, so I had to built that confidence back up and start believing in myself again – 'I can do it, I can go to an Olympic Games'.
"Winning a Commonwealth Games gold medal [at Glasgow 2014] in front of my family and friends, that was definitely the starting point to believing I could still do this and get on the podium."
A bronze medal at last year's World Championships lifted Carlin further but she admits the nerves nearly got to her at last month's Olympic Trials, where she failed to set the Rio qualifying time while winning gold in the 200m and 400m freestyle.
"I remember being a young girl, training in my local pool, racing everyone around me and just enjoying it," said Carlin, who finally achieved qualification by winning the 800m freestyle.
"I think I forgot about that at the Olympic Trials – I felt nervous and sick, which I had never felt before a race. I put that pressure on myself and it did get to me but I was able to relax and enjoy that last swim, which definitely made me go a lot faster."
Next up for Bath's Rio-bound swimmers is the European Championships at the London 2012 Aquatic Centre, starting on Monday, but Carlin says her main focus is on August 6.
"To come away with medals at international championships is always an amazing feeling but the Olympics is every four years and it does have that special feeling about it," she said.
"It is the pinnacle of most sporting careers and you want to be at your best. I'm going to be doing everything I can in training to make sure I have no regrets."