Welcome to Team Bath's Rio 2016 Olympics blog!
Here you will find the latest results, schedule and news stories relating to the participation of athletes with University of Bath connections at the Olympic Games this summer.
Don't forget to check out our Rio 2016 page for full details.
August 2 (three days to go!)
Rio-bound sprinters Sophie Kamlish and Polly Maton smash PBs ahead of Paralympic Games
Kamlish, coached by Rob Ellchuk at the University, continued to impress in the build-up to next month's Paralympic Games as she reduced her T44 100m national record to 13.26 – nine-hundredths of a second faster than she went at the Muller Anniversary Games in London a week earlier.
The same multi-classification race saw T46 sprinter Maton, coached by Colin Baross, reduce her 100m personal best to 12.77 and move up to third-fastest in the world this year. She will make her Paralympic Games debut next month.
August 1 (four days to go!)
Denise Lewis says hurdler Andrew Pozzi is one to watch in Rio
Former Olympic champion Denise Lewis OBE has said she "can't wait to see" how University of Bath-based hurdler Andrew Pozzi gets on in Brazil this summer.
Sydney 2000 heptathlon gold medallist Lewis told the Telegraph: "Should he find himself in the 110m hurdles final, that would be a fairytale."
July 28 (eight days to go!)
Eilidh Doyle and Andrew Pozzi feeling Rio ready thanks to coach Malcolm Arnold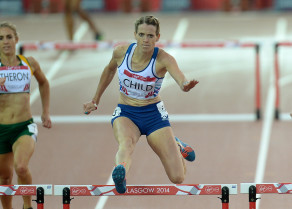 Legendary athletics coach Malcolm Arnold has famously guided the likes of Jason Gardener, Colin Jackson and John Akii-Bua to Olympic medals during an incredible career spanning nearly 50 years.
Now hurdlers Eilidh Doyle and Andrew Pozzi are looking to join that list of greats as they finalise their Rio 2016 Olympic Games preparations at the University of Bath.
July 27 (nine days to go!)
Team Bath judoka Ben Fletcher discusses qualifying for his first Olympic Games
July 26 (10 days to go!)
Rio-bound modern pentathlete Joe Choong talks to Team Bath
Visit our useful Rio-dedicated pages for full information: