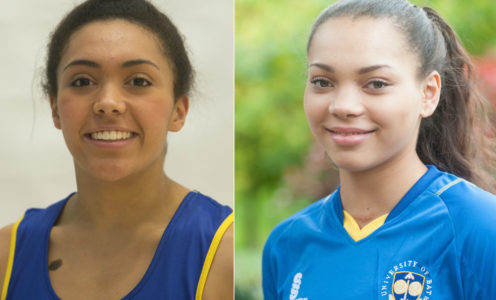 Alana John (left) and Paige Reed (right) will become the latest Team Bath Netball players to represent their country when they go on tour with England Netball U21s this week.
They will head to the Australian Institute of Sport in Canberra to take part in matches against Australian and New Zealand sides from August 4-15.
Team Bath Netball Assistant Coach Emily Perry will also add to her international experience when she assists Head Coach Tamsin Greenway on the tour.
John, who made her Superleague debut last season, helped England U21s win the Netball Europe title in 2015.
"It's very exciting," she said. "I went on tour to Australia last year and it will be another good challenge.
"This is the start of the build-up to next year's World Youth Cup in Botswana and we should learn a lot from this tour."
University of Bath Sports Performance student Reed, supported by a Santander Sports Scholarship, excelled for Team Bath's Netball Performance League (NPL) development team last season and cannot wait to experience her first overseas international.
"I'm still in shock that I'm actually going," said the goal-shooter. "I've played for England at U17, U19 and U21 level but have never toured before. I was working hard towards the trials but it was still a surprise to be selected.
"We are playing against the Australia and New Zealand U21 teams, as well as two development squads, so it will be such a great experience.
"It's nice that Emily will be part of the coaching team too. She has been training me for years and it's great to be sharing the journey with her."
Perry, a Coach Education & Sports Development graduate, has been coaching with Team Bath and the University of Bath netball teams since 2006. She took up the England U21 Assistant Coach role in June and is looking forward to the challenge ahead.
"This is the start of a year-long project, building towards the World Youth Cup, and it's very exciting," she said.
"This is our first tour as a group and will provide us with a benchmark as to where we are in relation to the best in the world.
"Tamsin and I were at Team Bath together but in different teams, so we didn't play together and this will be our first time coaching together. We get on really well, though, and share the same philosophy and vision. I am learning a lot from her that I can bring back to my role at Team Bath."
Perry is the latest Team Bath coach to work with England U21s, with Head Coach Anna Stembridge and Director of Netball Jess Thirlby both having coached the young Roses in recent years.
"I have had plenty of encouragement from Jess and Anna," Perry added. "They obviously have a lot of experience with England U21s and have always been willing to share that. I am also grateful to Team Bath for letting me have the time to work with England."
Team Bath has a proud history of developing players for the international stage, with 76 netballers who featured in the Blue and Gold having gone on to represent their country. That includes eight members of the England squad that won bronze at the 2015 Netball World Cup.
An open trial for the 2016-17 Team Bath Netball U21 squad is taking place at the University of Bath on Sunday, August 21 – click here for more information. It costs £5 to attend and anyone who would like to register an interest should email netball@bath.ac.uk by Friday, August 12.