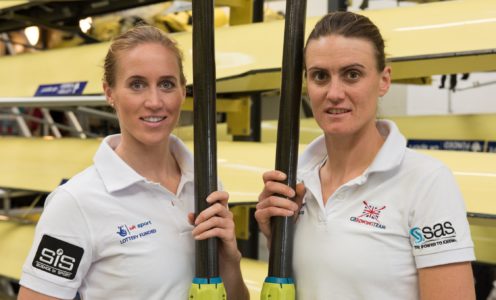 Who to watch today
Sunday 7 August 2016

Sport

Time

*

Stage

Athlete(s)

Event

Venue

Result

Rowing
16.10
Heats
Helen Glover, Heather Stanning
Women's pair
 Lagoa Stadium
Cancelled
Rugby 7s
16.30
Group stage
Natasha Hunt, Amy Wilson Hardy
Canada v GB
 Deodoro Stadium
22-0
Swimming
18.16
Heats
Chris Walker-Hebborn
100m backstroke
Olympic Aquatics Stadium
3rd, 53.54
Swimming
18.33
Heats
Jazz Carlin
400m freestyle backstroke
Olympic Aquatics Stadium
1st, 4:02.83
Rugby 7s
22.00
Quarter-final
Natasha Hunt, Amy Wilson Hardy
GB v Fiji
 Deodoro Stadium
26-7
Tennis
21.00
Round one
Marcus Daniell
Men's doubles v Canada
Olympic Tennis Centre
Lost 2-1
As it happens
2.27pm: Helen Glover and Heather Stanning will have to wait to start their Olympic women's pair title defence after windy weather on the Lagoa forced the cancellation of the day's rowing.
5pm: A stunning length-of-the-field try by Amy Wilson Hardy is the highlight of Team GB's 22-0 win over Canada in the women's rugby sevens. They top their group and advance to the quarter-finals later tonight.
6.25pm: Chris Walker-Hebborn is third in his 100m backstroke heat in 53.54, the tenth-fastest time overall which puts him safely through to tonight's semi-finals.
6.30pm: Helen Glover and Heather Stanning's rowing heat has been rescheduled for 4.30pm BST on Monday.
6.50pm: Brilliant swim from Jazz Carlin to win her 400m freestyle heat in a new personal best time of 4:02.83 and progress to tonight's final at 3:01am BST as the second-fastest swimmer overall.
7.10pm: Confirmation that GB women's rugby sevens will face Fiji in the quarter-finals at 10pm BST. Good luck to Amy Wilson Hardy and Natasha Hunt!
10.20pm: a 26-7 win over Fiji puts the Team GB women's rugby sevens team into tomorrow's semi-finals, meaning they will definitely be playing for a medal.
More information