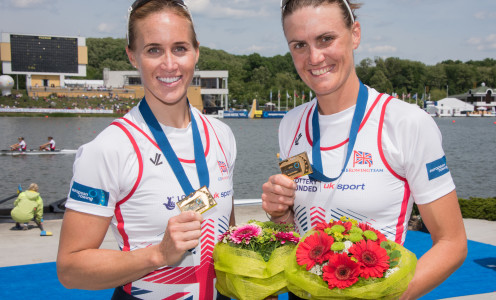 Following yesterday's silver medal for University of Bath graduate Vicky Thornley, Helen Glover and Heather Stanning look to add another medal to the Team GB haul on day seven.
The defending Olympic champions set the fastest time in both the heats and the semi-finals and will look to continue that form in the final this afternoon.
University of Bath-based swimmer Jazz Carlin will be looking for her second medal of the week after qualifying third-fastest for the 800m freestyle final.
On the badminton court, Heather Olver takes on Indonesia in the women's doubles event.
Who to watch today
Friday 12 August 2016
Sport
Time*
Stage
Athlete(s)
Event
Venue
Result
Rowing
15.06
Final
Helen Glover, Heather Stanning
Women's pair
 Lagoa Stadium

GOLD

1st, 7:18.29

Badminton
19.30
Prelims
Heather Olver
Ladies' doubles (v Indonesia)
 Riocentro – Pavilion 4
Lost, 2-0 (21-10 21-13)
Swimming
19.38
Heats
Siobhan-Marie O'Connor
4x100m medley
Olympic Aquatics Stadium
5th, 3:59.34
Swimming
19.48
Heats
Chris Walker-Hebborn
4x100m medley
Olympic Aquatics Stadium
1st, 3:30.47
Swimming
02.20
Final
Jazz Carlin
800m freestyle
Olympic Aquatics Stadium

SILVER

2nd, 8:16.17
More information